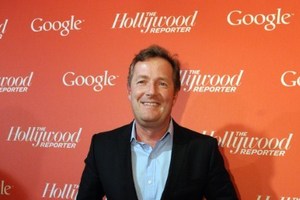 Stories aren't the only thing high-profile studio anchors at CNN apparently know how to break. Judging by the latest TV ratings, they also seem to be succeeding in destroying the loyalty of viewers.
Figures from ratings agency Nielsen show America's most famous rolling news brand has just had its worst month for almost 20 years, parting company with more than 50 per cent of its audience in 12 months.
The development follows years of steady decline for the network, which pioneered 24-hour news in the 1980s, and was for years the top-rated news channel. In recent years, it has been hit by intense competition from Fox News and MSNBC, which now outperform it in almost every time slot.
The figures also raise questions about the future of Piers Morgan, hired to shake up its prime-time schedule with an hour-long weeknight interview show. He drew an average of 417,000 viewers, a fall of 50 per cent and the worst figure for the slot since the early 1990s.
Morgan's show is largely admired by critics. But his audience is volatile, and seems to vary according to the calibre of guests. Early last year, when he took over from octogenarian Larry King, who had about 600,000 viewers, Morgan said his show should be judged "by how we settle down" in six months to a year. By that measure, he's in trouble.
Last month, CNN's average audience fell to 388,000, of which only 113,000 were adults in the 25-54 age bracket that advertisers covet.
And that decline is speeding up as the internet rises in popularity as a source for breaking news.
The figures also suggest CNN is losing viewers more quickly than rivals. For Fox, comparable figures (1.65 million and 319,000) are down just under 10 per cent annually. MSNBC (658,000 and 213,000) is falling by around 20 per cent.
"The biggest problem is inherent in their brand," says Robert Thompson, professor of television and popular culture at Syracuse University.
"They are trying to stick to old-fashioned, unbiased news broadcasting when their rivals have worked out that to draw an audience when there aren't major stories breaking you need to do the opposite."
CNN keeps a costly network of overseas bureaux and is still seen as the United States' most reliable TV news brand. It has resisted using partisan anchors. As a result, CNN remains a go-to destination only when major breaking news stories unfold. Last month was particularly tough because it was a quiet news month.
- Independent