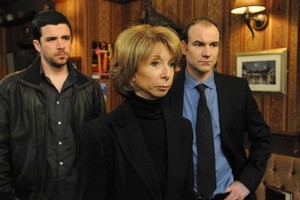 Photo / Supplied
The campaign to rescue Coronation Street from its proposed new timeslot has barely begun, but it may be hard to get up the head of steam required to force a rethink at TVNZ.
The state-owned broadcaster announced this week that the long-running soap will move to a daily 5.30pm slot from October 17 to make way for the finals of the cooking contest show Australian Masterchef.
The TV One press release was headed "Masterchef Australia finals for primetime" but the big news was that the move "will require a change to the scheduling of a number of primetime shows including Coronation Street".
In fact, the change represents an increase in Coro time of half an hour a week but no one noticed. The programme, despite its Mancunian accents, is part of the New Zealand way of life, and it's moving from primetime to a slot when most people are driving home or cooking dinner.
Online reaction was swift: 2000 signed up to an online petition by 10.30am the next morning. But in 1994, when TVNZ announced it was cutting back the Weatherfield dis-patches from three half-hour weeknight slots to one weekly hour-long programme, more than 20,000 people signed petitions the old-fashioned way. By the end of January, TVNZ backed down.
Much of the outrage came from the elderly: a couple at an Otaki rest home said it would be hard for them and their ilk to stay awake for the extra half-hour. Their present-day counterparts, many of whom are having dinner at 5.30pm, will presumably not much like the new set-up. But rest-home residents aren't television's target market.
Coro has a big audience share (26.9 per cent in the last week) but so does Australian Masterchef (25.9 per cent). TVNZ is picking that they will gain more than they lose in the all-important Target Audience Rating Points (TARPs), which measure the marketing effectiveness of an advertisement placed at a particular timeslot. Those are the figures that advertising buyers look at. Since it began, television has been in the business of entertaining viewers only to the extent that it delivers them to advertisers.
That being so, the shift is likely to be a permanent state of affairs. The advertising man who said this week that "you don't take a show from prime time and then bring it back" knows that TVNZ has scented the wind. There's no room for sentiment in the ratings war and this week's change is just another step in the remorseless ascendancy of reality television.
In a sense of course, reality television is the new drama - because it's the old drama. Most of it is founded on a concept of competition that goes back to the gladiators. Viewers enjoy rooting for their favourite contestants in the same way as they hoped that their favourite soap characters would triumph over scripted adversity.
The idea that such contests are, in their own way, scripted, right down to the last teardrop or blush, will come as no surprise to anyone who remembers the radio quiz show scandal of the 1950s. But audiences lap up the new drama as greedily as the old, and the industry rubs its hands in glee: production costs are lower; spin-off and merchandising opportunities are endless.
The only way that the decision would be reversed is if Australian Masterchef's ratings plummeted after the moves. Any close observer of trends in television - and there are a few of those at TVNZ - will be picking that's not going to happen. And only the foolhardy would bet that Coro will ever make it back to its old slot.