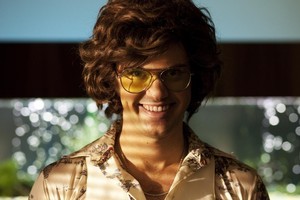 TV and radio operator hires old-school expert as its controlling shareholder denies reports it is for sale
MediaWorks - owner of TV3 and half the country's radio stations - has hired a top gun public relations consultant to front for the company.
The company confirmed yesterday that it has hired former Baldwin Boyle Group chief executive Greg Shand for a new communications role.
The appointment comes amidst widespread speculation - rejected by its controlling shareholder Ironbridge Capital - that the company is in the process of being sold.
Public relations insiders said that Shand had taken the role on a part-time basis and for a specific term, but that given his experience, he would not have come cheap.
He has a reputation as an old-school style of PR man and is well connected with extensive contacts in business, government and the media.
MediaWorks' group managing director Sussan Turner last night said Shand's experience in business, government and media would help build stronger relationships with "our key stakeholders and audiences." Shand will start work next Monday.
Meanwhile, Television New Zealand is still trying to recruit a head of communications and lobbyist to replace Peter Parussini, who left in July to take a senior role with the ANZ Bank. Parussini had previously been lined up to run TVNZ 7 - but the role was abolished when the Government announced it would not be funding the venture past July next year.
MELLOW YELLOW
ASB Bank general manager of marketing Deborah Simpson has stepped down from the company and more changes are expected. Catherine McGrath, chief executive of customers, markets and products said: "It is with regret that I have accepted Deborah Simpson's resignation from her role." She is starting her own business and is expected to leave shortly.
Simpson played a key role in developing the marketing strategy at ASB Bank including its decision to drop the long running "Goldstein" campaign and ad agency TBWA Whybin. The business was passed to new agency Droga 5 run by Andrew Stone and Mike O'Sullivan. The change was under former ASB CEO Charles Pink, who left in 2010 for personal reasons. He has been replaced this year by Barbara Chapman, a former head of marketing under a previous regime who is expected to develop its marketing strategy.
MORE, MORE, MORE
Taxpayers may need to give TVNZ more money so that it can make a commercial profit - but where would that leave poor old TV3?
The Government has okayed a bullish Television New Zealand plan where it signals it wants more taxpayer handouts to "mitigate risk" for its business plan.
The broadcaster tabled its statement of intent in Parliament last week in which it signalled more commercial, closer relationships with other providers - such as Sky TV. But the targeting of NZ On Air - an independent source of contestable money which has funded TV3 shows such as Underbelly: Land of the Long Green Cloud - has raised eyebrows. Does TVNZ have tacit government backing - like it gave to MediaWorks for a radio frequency lifesaver, or talks for the merger of the Broadcasting Authority and Advertising Standards Authority. Or (more likely) was this wishful thinking PR in a statutory document from a government agency okayed from a disengaged government.
In its statement tabled in Parliament last week, TVNZ said: "We need to increase our share of overall funding. In doing so, we need to direct more of our efforts towards securing funds for commercially attractive, peak programming.
"We need to engage NZOA to broaden the availability of funding for commercially attractive genres - with genres that demonstrate the greatest commercial potential - drama, comedy, entertainment and popular factual. Only about 50 per cent of NZOA's total awards support peak programming across these categories," the broadcaster said. "There remains the risk of misalignment between the programming objectives of NZ On Air with the commercial objectives of TVNZ."
A well-placed source familiar with government processes was "baffled" by the wording of the statement of intent which goes against all the requirements, but a source familiar with TVNZ thinking said there was nothing unusual in the statement.
The upshot is that TVNZ says it gets the biggest audiences so should get more cash. But money is allocated for ideas, not for a straight mathematical calculation on dollars spent per view. If the notion went ahead it would limit the number of gatekeepers for ideas and seriously damage TV3 which relies on access to keep up its local content. If you go down that route you might as well do away with NZ on Air and its central role in the television industry.
THREE'S COMPANY
Broadcasting is a low priority in government which appears to be leaving it to the market to decide what sort of services are available. The anomaly is that the state - in the form of TVNZ - is a significant player in the broadcasting market so taxpayers, as well as consumers, have a stake in the future. The statement of intent makes it clear that TVNZ wants to maintain its mass audience by "forming strategic relationships with both local and international content rights holders". TVNZ says that to mitigate the risks of developing digital media it would pursue growth in its pay channel business and optimise the commercial rights it has secured with multi-channel distribution strategies, and sees a role in pay TV. Which may well include tvnzondemand.co nz, though TiVo is now essentially a dead duck. The future for the state broadcaster may include Freeview, and other digital operations like Heartland Channel and Kids TV are now entwined with Sky TV.
This fundamental strategic relationship has been kept secret by the two companies with no explanation from politicians. Meantime the Government has rejected concerns about Sky's growing dominance. At one time TVNZ was one of Sky's harshest critics, though that criticism has largely died away since the Government brokered a deal that has led to TVNZ and Sky working more closely together.
An indication of just how much these two are hand-in-hand may be apparent with the publication of a study by the Commerce Commission about ultra fast broadband examining if there are any barriers to uptake for UFB. One of the key issues in that study will be content - and Sky's hold on content is under scrutiny. So does the state broadcaster still have concerns about the dominance of Sky TV now that Sky is a major strategic partner? One of the allegations against Sky is that its hold on content and lack of transparency will discourage new internet TV providers that are the engine for UFB uptake. It may be that the Government is right and there is no need to be concerned about uptake or market dominance issues. It may be that we will be well served and one day have a number of global internet TV channels. TVNZ - like Sky - has an interest in reducing the number of new domestic players in the pay TV market and limiting their access to content. It may be these are some of the strategic issues affecting the future of New Zealand television that are being talked about behind the scenes between the state broadcaster and the pay TV monopoly. In most countries the whole process would be open and transparent.