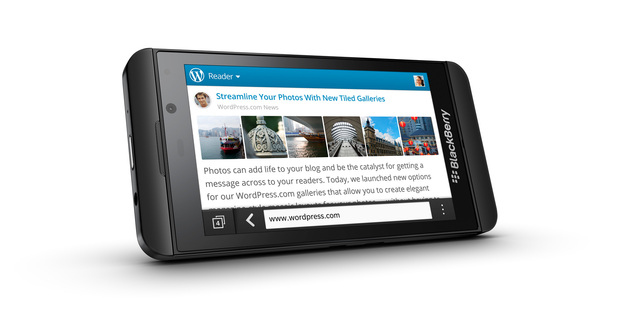 RIM, the inventor of the original smartphone has had a hard road to travel. Having been on the sidelines watching as Apple took the smartphone mainstream, they were then faced with the daunting prospect of having Google as a competitor as Google's open source Android platform launched and went from strength to strength.
Unsurprisingly, many had written off the Canadian phone maker, but now they're back with a vengeance with a whole new OS and a bunch of new handsets that they hope will give Apple, Google and others a real run for their money. After spending some quality time with the BlackBerry Z10, I'm tempted to say that RIM may be onto something.
Look and Feel
As with other BlackBerry gear, the build quality of the Z10 is pretty high end. Despite a plastic coated alloy finish, the Z10 felt reassuringly solid in the hand and from a design perspective is a well thought out piece of hardware.
The first thing I noticed when picking it up was a non-slip finish on its rear. This mightn't sound all that important, but if you've ever dropped and broken a smartphone, the chances are pretty good that I now have your undivided attention.
Adding glass and alloy to phone designs might give a phone maker's latest creation some serious "bling", but glass or aluminium handsets can be slippery beasts and as many already know, subjecting a $900+ smartphone to an involuntary drop test onto a concrete can be a heart breaking and costly affair. The Z10's non slip textured rubberised finish on the Z10's rear should hopefully make this a more avoidable going forwards.
Looks-wise, the Z10 is iPhone 5 like, being a slim black on black touchscreen-slab, complete with rounded corners. On its rear where you'd expect an Apple logo, there's a small chrome BlackBerry logo. The Z10 is thin and although solid, it doesn't feel like a brick. Size-wise it is very pocketable. In short it is a good looking piece of hardware.
The Z10's rear cover is also removable which provides easy access to the battery, SIM and a microSD slot. The fact that BlackBerry can put a removable battery in their svelte smartphone certainly begs that the question be asked - why can't others? The Z10's 4.2" display might feel on the small side compared to the gazillion inch screens of HTC One or Galaxy S4, but it is perfectly formed. Cranking out a resolution of 1280 x 768, the LCD display has a pixel density of 356 dpi, which means it is pin sharp. Colour reproduction is also great and the display is bright enough to do double duty as a hand held tanning studio.
Other notable connectivity options include microUSB and microHDMI slots on the Z10's left hand side (so you can hook your phone up to your telly, which is incredibly handy for checking out photos and video you've shot), and there's a 3.5 mm headset socket plus a power button on its top along with a volume rocker on its upper right-hand side.
Under the Hood
The beating heart of the Z10 is a Qualcomm Snapdragon S4 Plus 1.5 GHz dual-core CPU along with 16GB of RAM. That amount of RAM feels a little stingy given many phones are now hitting store shelves with 32GB, but the Z10 is also expandable via a micro SD slot next to the battery.
In use the combination of an energy efficient CPU and good power management options saw battery life being at least a full day with moderate use and about 7-8 hours with heavier use.
BlackBerry 10
BlackBerry 10 is a much needed update. The interface has been reworked for a touch centric user experience and will be immediately familiar to anyone who has spent any amount of time with a BlackBerry Playbook tablet. BlackBerry 10 is very reliant on swipe gestures - you swipe upwards to unlock, left and right to access your apps (already running apps are displayed as minimised icons and can be closed with a single tap). Swiping down from the top of the screen brings up settings. Swiping upwards reveals eight Active Tiles which are the most recently used apps. A particularly nice feature is that when any of these are tapped, they'll restart in the in the exact state that they were left in when you exited them. A swipe halfway up from the bottom of the screen also shows a peek at notifications. Swiping halfway up and then to the right reveals the BlackBerry Hub.
The hub is essentially a unified inbox for all email, text and social network accounts. As cool as the concept is (and a single swipe to access all email, SMS, twitter message notifications most certainly is dead handy), the Hub doesn't show which email messages are tied to which account without opening up an individual message.
One standout feature that other phone makers should also take notice of with the Z10 is a nifty photo shooting mode known as Time Shift. When shooting a pic using Time Shift mode, the camera will rapidly take a series a of pictures in succession. You get to choose the best photo of the bunch, and can also select a person's face so if their eyes are closed or they have a gormless expression, you can choose to use their face from one of the other photos. It sound complex but in use is hyper-intuitive and insanely useful.
The camera performs is pretty decent but is out is outperformed by the iPhone 5 or HTC One. Daylight photos were okay but night-time shots suffered from noise. RIM have also bundled a pretty cool photo editing app that can fix most common photo faults too.
Another thing that I really rated with the Z10 was its browser. Not only was it speedy, but it also plays nice with Flash content. Yet another thing other smartphone vendors could learn from.
No review of a BlackBerry phone is ever complete without a discussion of its keyboard. The Z10 has an on-screen keyboard which in use turned out to be a decidedly pleasant surprise. BlackBerry set the benchmark for physical keyboards, and now it appears that they have just done likewise with on-screen keyboards. BlackBerry 10 provides uncannily accurate predictive text suggestions, which appear right on top of the keys that would be the next letter in the word you may want to type. The correctly spelt word will then appear on the space bar, and will show up when you hit the space key as you move on to your next word. In use it was super intuitive, and crazily fast without sacrificing accuracy. If you do a lot of twitter, email or other keyboard centric chores from your phone, the Z10's keyboard is easily a killer feature that's worth taking a closer look at.
Being a newly minted OS, apps are still a little thin on the ground but popular apps such as DropBox, Foursquare, and Angry Birds were all present in the BlackBerryworld app store. Evernote and Dropbox are both already baked in and there is also a free version of Skype available. The pool of available apps will no doubt grow over time, but given the relative freshness of the BlackBerry 10 OS, it isn't a bad start.
Another factor that'll help BlackBerry 10 along is its compatibility with Android apps, which also vastly increases the range of available apps. This said, the process of installing Android apps on BlackBerry 10 can be pretty a cumbersome affair involving installing software onto a PC, and then side-loading android apps to the Z10 using a USB cable. The secret sauce for doing this is an Android 2.3 emulator baked into BlackBerry 10.
Being a BlackBerry device, security is also present so the Z10 can be remotely located, locked or even wiped if lost. Also present is what RIM have branded "Balance". You'd be forgiven for thinking that involved running shoes, but Balance provides dedicated profiles to keep work and personal data separate and secure.
Verdict
The Z10 is a nicely designed piece of hardware that incorporates all the good bits from BlackBerry of old (great keyboard, a unified messaging solution and solid security for remote wiping, locking etc). There's a bunch of new features that range from nice to essential that'll also make die-hard BlackBerry fans extremely happy. If you're looking to make the leap to a smartphone, the Z10 is a worth a serious look.
Tech Specs
RRP$ Depends on mobile plan and mobile operator
Display Resolution 1280 x 768 resolution, at 356 PPI, 24-bit colour
Screen size 4.2" diagonal, 15:9 aspect ratio
OS BlackBerry 10 OS
CPU Qualcomm Snapdragon S4 processor with 1.5 GHz dual-core CPUs
Storage 2GB RAM, 16GB Flash, Expandable via microSD (Up to 32 GB)
USB Ports USB 2.0
Micro HDMI
Battery 1800mAH removable battery (hours talk time on 3G, 13 days standby time)
Camera 8 megapixel auto-focus camera, 5-element F2.2 lens, 1080p HD video recording, video stabilization, Time Shift mode for pinpointing and adjusting individual elements of your picture
Front camera 2 megapixel fixed-focus camera, 720p HD video recording
Security Password protection, screen lock, and sleep mode
BlackBerry® Balance™ offering dedicated profiles to keep work and personal data separate and secure
Cellular connectivity Quad band LTE (700/850/1700/1900 MHz)
Quad band HSPA+ 1, 2, 4, 5/6, (850/1700/1900/2100 MHz)
Quad band EDGE (850/900/1800/1900 MHz)
Wi-Fi 802.11 a/b/g/n, 2.4 GHz / 5 GHz
4G Mobile Hotspot
Bluetooth® Bluetooth 4.0
GPS & GLONASS Support
NFC
Sensors Accelerometer, Magnetometer, Proximity sensor, Gyroscope, Ambient light sensor