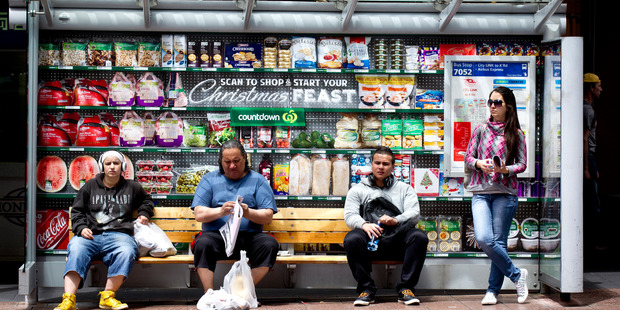 Kiwis in the bigger cities can now do their Christmas grocery shopping from the bus stop.
Countdown supermarket has introduced the country's first virtual supermarket, enabling people waiting at bus stops in Auckland, Wellington and Christchurch to order Christmas goodies online.
Shoppers who download Countdown's mobile app can scan any of the barcodes linked to the 55 festive goodies displayed at the bus stop by using their smartphones. They can pay for the purchases online and arrange to have the items delivered to their door.
The advertising campaign for the scheme was installed at bus stops in Queen St, Lambton Square and Northlands Mall as part of a trial yesterday afternoon.
Countdown's general manager of marketing, Bridget Lamont, said virtual supermarkets operated in the UK, Australia and Korea but this was the first time it had been done in New Zealand.
"I think time will tell whether it's a gimmick or whether it's something useful for people."
Countdown introduced its mobile phone shopping app in May and about 5 per cent of online shoppers now used it.
Online apps appealed to traditional grocery shoppers and engaged a new group of shoppers interested in technology, Ms Lamont said.
Countdown said it would consider similar campaigns with other themes. Waikato University senior lecturer in marketing Dr Linda Hollebeek said mobile phone apps were becoming increasingly prevalent in today's market.
However, she said they divided the "haves" from the "have nots" by targeting those with smartphones and excluding people with traditional mobile phones who were "being left behind in the area of these innovative apps".