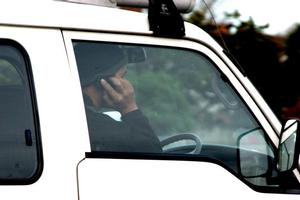 A top police crash investigator supports the ban of mobile phone use by drivers.
Serious Crash Unit investigator for Auckland's Waitemata region, Sergeant Stu Kearns, said he has a case on the books now where a driver crossed the centre line while talking on his mobile and crashed head-on into a motorcyclist.
The motorcyclist died while the driver "walked away without a scratch".
Mr Kearns said a ban on mobile phones would reduce the number of needless deaths on the country's roads.
"From my point of view, it is very positive," Mr Kearns said.

Drivers will not be allowed to text or talk on hand-held mobile phones from November.
Transport Minister Steven Joyce announced the change to the Land Transport (Road User) Amendment Rule today.
People who ignored the change would be liable for an $80 fine and 20 demerit points.
"There are a lot of other distractions while driving but hand-held mobile phone use has grown to become a significant problem," Mr Joyce said.
"The reality is we need to send a strong signal to all road users that it's not on. Texting and driving in particular is a total no brainer."
Drivers will be able to use hands-free devices and two-way radio under the ban. There would also be an exemption for 111 calls.
Mr Joyce said allowing hands-free calls recognised many business and trades people depended on mobile phones.
"However, I would still urge hands-free users to pull over to make or respond to calls whenever possible."
Vodafone, Telecom and mobile phone industry newcomer 2degrees all support the ban.
Vodafone spokesman Paul Brislen said the company thinks it is a "great idea".
"The scary thing is people are now texting while driving, instead of driving," Mr Brislen said.
Telecom spokesman Mark Watts said every mobile phone is "equipped with fail safe technology - and that's the on/off switch".
He said Telecom encourages all its staff to pull over while making a call, even if they are using hands-free technology.
2degrees spokeswoman Bryony Hilless said the company "totally supports the Government ban".
Automobile Association spokesman Mike Noon said Kiwi drivers should simply turn their phones off before getting behind the wheel.
He said the association has been campaigning for a law change for a long time.
"The safety benefits for the ban are obvious and using a cell phone while driving is recognised as extremely dangerous," Mr Noon said.
He said the AA would like to see an advertising campaign to make people aware of the dangers of using a mobile phone while driving and the upcoming law change.
Mr Noon said the $80 fine and 20 demerit points are a little steep but it shows the Government is serious.
"We're hopeful that the measure is successful and saves lives on our roads," Mr Noon said.
Between 2003 and 2008, there were 482 injury crashes and 25 fatal crashes in New Zealand where the use of a mobile phone or other telecommunications device was identified as a contributing factor.
The Road User Rule also included a requirement for motorcyclists and moped riders to operate headlights during daylight hours.
"The number of motorcycle crashes has increased rapidly in recent years as motorcycle usage has grown in popularity again.
"This requirement will help to ensure that motorcyclists are visible to other road users."
The rule contained 23 small and technical changes to improve road safety, clarify existing laws, reduce compliance costs, assist enforcement, and improve traffic flow.
Mr Joyce said a 10 year road safety strategy review would soon be out for consultation.
- NZPA, NZ HERALD STAFF