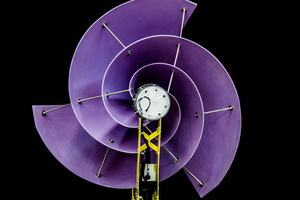 BLOWING IN THE WIND: Liam seems like a perfectly good name for an almost silent wind turbine you could have at home. Its yearly output averages between 300 and 2500 kilowatts, depending on wind speed and roof height. The turbine itself weighs only 55 Kg and has a diameter of 1.5 metres, though a miniature version is also available with a diameter of 75 cm. Liam produces only around 45 decibels of sound, or around the same level as rain. The spiral shape of the blades draws wind into the turbine, so others can be placed nearby without being affected. It seems like every home could have one.
PRESS ONE FOR RESUSCITATION: If you had to perform CPR to save a life would you know how to do it? Just watching a few TV shows probably won't equip you to carry it out correctly and without harming the person needing help. The Cardio First Angel doesn't need batteries or power to help you perform CPR correctly. It's a large padded button you place on the patient's chest.
The design and shape of the device help ensure it's correctly positioned. Press the button to perform compressions. The button clicks when you press hard enough and clicks twice when your timing is right, at 80 to120 compressions per minute. That's one for the office first aid kit.
BIONICS FUN: The Paralympics and the Olympics are well known sporting events, and maybe in time the Cybathlon, an Olympics for bionic athletes, will be too. The games are to take place in Switzerland in October 2016. Events will include races between avatars of folks paralysed from the neck down using a brain interface for control, and races for competitors wearing prosthetic limbs and exoskeletons. One aim of the games is to push development of assistive technologies towards devices that people can really use in everyday life. The games will also allow people to compete who have never had the opportunity before, as even the Paralympics excludes some technology. An element of fun can push many things along.
BLOOD LOSS: Getting a blood test is no fun, especially as you watch several vials filling up with the stuff. The Theranos system though needs only a single drop of blood, even for hundreds of tests, from standard cholesterol checks to sophisticated genetic analyses. Because the process is automated the results are also faster, more accurate, and cheaper than current tests. Results can be available after 4 hours, even for tests like viruses where traditionally a culture would take several days. This system instead quickly measures the DNA of the pathogen.
BREATHE NORMALLY: To use a standard snorkel mask you need to breathe only through your mouth which may not come easy to nose-breathers. The Easybreath mask is a full-face snorkel mask that offers the wearer an unobstructed 180 degree field of vision, and uses a double air-flow system to prevent fogging. The wearer can breathe normally inside the mask, while a special mechanism plugs the top of the snorkel tube if it goes under water. It sounds like the new standard to meet.
Miraz Jordan, knowit.co.nz