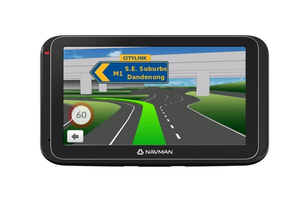 Here's the thing. I'm a terrible navigator. I am so directionally challenged that get lost in unfurnished rooms. This really comes to the fore when travelling. The patience of travelling companions tends to wear pretty thin as I fumble with a paper map whilst parked up on the side of an unknown foreign motorway in the middle of nowhere as stomachs rumble and petrol runs dangerously low.
Thankfully my navigational challenges are a thing of the past thanks to GPS navigation systems such as Navman's MY450LMT. The unit is Navman's latest portable GPS. It comes with monthly map updates free of charge and has a pile of features to eradicate getting lost. Driving to our accommodations and a multitude of attractions during a trip to the UK presented me with the perfect opportunity to put the MY450LMT through its paces.
Look and Feel
The unit itself is fairly plain looking with a few design flourishes such as a brushed metal bezel surrounding its 5" LCD touch-screen. The MY450LMT's chassis is done out in understated black plastic with a matte, finish on its rear, making it less of a distraction whilst driving.
Connectivity-wise, things have been kept simple. The power button located on the MY450LMT's top must be held for several seconds before the MY450LMT will power-up, preventing it from accidentally starting while stored in the glove box. The unit also features a microSD card slot (for storing multiple maps) plus AV sockets for Navman's reversing camera accessory. Rounding things out is a mini-USB port for charging the MY450LMT. It also comes bundled with a suction windscreen mount.
In Use
The MY450LMT was pretty straightforward in use. This is largely thanks to a plain, uncluttered and well thought out interface that was so intuitive that I skipped the usual ritual of RTFM (reading the flipping manual).
Driving the MY450LMT requires you touch and tap its 5" colour LCD touch screen. With the UK caught in the midst of a heat wave, I was also able to ascertain that the MY450LMT's display was readable under direct sunlight.
This said, its on-screen keyboard was sluggish. Even though I typed slowly I frequently found myself correcting miss-entered addresses as the MY40LMT's software lagged behind when typing.
It wasn't just typing either; the MY450LMT also took 20-30 seconds to boot up, and anything up to a minute to lock onto a GPS signal.
These minor quibbles aside, once powered up and locked onto a signal, the MY450LMT performed flawlessly. Navigating to an intended destination is done using the "find" button. Tapping this gave me the option of searching for my destination by keywords, addresses, GPS coordinates and postcodes.
Once the MY450LMT knew where we were heading, following the map on its 5" screen proved dead easy. Motorway lane guidance and street names were clearly displayed, the route was highlighted in green and direction changes were indicated using small yellow arrows, all of which helped to reduce any confusion on my part. The distance to go, your speed and ETA can also be displayed with navigation instructions displayed at the top of the screen.
Tapping the map bought up the map options where I was able to zoom or get an at-a-glance overview of my selected route.
We ended up naming the MY450LMT "Sheila" thanks to its default female aussie voice (several other voice guidance accents are available, but sadly there's no kiwi option). This said, Sheila's voice did a great job of getting us from A to B without any mishaps thanks to concise and clear instructions, and her occasional mangling of complex street names provided the odd bit of comedy.
Sheila's voice was also plenty loud inside the rental car, however I found myself wanting to turn her up when driving with windows down. I'd set the MY450LMT to notify me when we were near any speed cameras and it also played an alert sound for speed limit changes.
Heading up the motorway from Gatwick to accommodation in Yorkshire, the MY450LMT's lane guidance feature proved invaluable. 3D junction views meant missed off-ramps were a non-issue as we were expertly guided into the correct lane well ahead of any moves from one motorway route to another.
Two features that also deserve mention with The MY450LMT are Bluetooth connectivity and voice command functions. While Bluetooth connectivity allowed me to pair my phone for hands-free phone conversations, the voice command function proved to be a trickier proposition. In theory it should make using the MY450LMT a hands-free and safer process. In practice it was frustrating, being wildly inaccurate. I eventually gave up using it altogether.
Verdict
The MY450LMT performed flawlessly. Dreaded tasks such as navigating the highway system around Heathrow Airport to drop off the rental car happened with no issues. In car tempers and frustration was almost non-existent as navigation all but ceased to be a problem.
This said, the MY450LMT isn't perfect, with its performance marred by a sluggish keyboard and unusable voice menus. Neither of these greatly affected its usability under real world conditions and free map updates also ensure it stays accurate. Considering its sub-$300 sticker price (plus the cost of additional maps), the MY450LMT is a must-pack item for anyone planning a road trip.