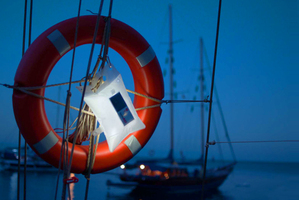 BLOW UP THE LIGHT: An 85 gram solar powered inflatable lantern can give up to 16 hours of light after charging in the sun for 6 or 7 hours. In fact, the Lithium-Polymer Ion battery can hold a full charge for over 4 months. The cushion-shaped LuminAID packs flat, so it's easy to ship and to carry. It's also waterproof and can float. A few puffs blow it up so the LED light is more diffused, creating a more gentle ambient light without glare. Designed for use in disaster areas, the lantern would also be handy for trampers. That would be very easy to keep in the emergency kit.
PUMPED UP: A rover on another planet may encounter all kinds of terrain, and designing wheels to handle that variety takes a lot of thought. Researchers at Seoul National University have created a wheel that can deform, so it has a large radius to better climb over things, or a smaller radius better for squeezing under things, as required.
The wheel takes its adaptable form from a famous origami trick called the magic ball pattern and needs only a single actuator to transform.
DRIVING FORWARD: It may not have deformable wheels, but the Ground Unmanned Support Surrogate vehicle the US Marines are testing can drive itself around a battlefield. The vehicle can also be driven normally or operated by remote control. How does it defend against being captured by the enemy?
SIT, DON'T STAY: Honda's Uni-Cub is a tiny personal mobility device that could perhaps replace something like a bike or a Segway. Riders sit on the device and propel it by small posture changes, leaning in the direction they want to go. The Uni-Cub has a single larger omni-directional driving wheel, with a couple of smaller wheels that help with turns and moving sideways. The device could find a use in places like galleries, airports and museums. Bopping to the rhythm of music in headphones could make for an interesting travel experience.
A NEW SPIN: A new energy generation installation on the roof of a building in Kingston, Jamaica should produce more than 106,000 kWh of energy every year. The array includes 50 SolarMills from Windstream, that incorporate a wind turbine with a solar panel, each taking up the roof space of a single regular solar panel. The solar panel is split so one part is raised higher than the rest. Holding up the higher part is the wind turbine portion, with a blade spinning around a vertical axis. The company say that each SolarMill provides the highest energy density currently available in the renewable market. Wind and solar together are a powerful combination.
Miraz Jordan, knowit.co.nz