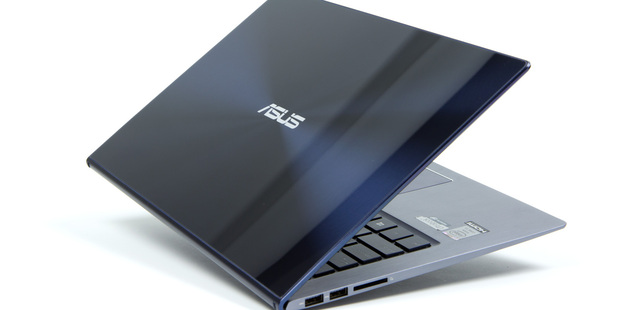 Asus' latest Windows 8 Ultrabook, the Zenbook UX302 ticks a lot of boxes. Could it be the best contender for the Windows 8 Ultrabook crown?
Look and Feel
The Asus Zenbook UX302 is a 13.3" beastie. While it mightn't make it the largest Ultrabook in town, it does deliver a solid compromise between size and portability.
For a start its keyboard didn't feel cramped or tiny. It was also conveniently small enough to toss into a laptop bag, leaving plenty of room for other gear.
Perhaps the most noticeable thing with the UX302 is just how slim it is. Asus seem to have put it on an ultra-low calorie diet.
Although it is skinny it is reassuringly solid and light enough to not warrant visits to a chiropractor after lugging it around town for a day.
Looks-wise, the UX302 is striking. Its lid features the now familiar Asus dark grey spun metal look with the added twist that there's a piece of Corning Gorilla Glass 3 covering it.
This is pretty tough stuff and supposedly offers three times the scratch resistance of Gorilla Glass 2.
Under the Hood
The UX302 I reviewed was powered by Intel's forth generation Haswell Core i7 silicon.
Media mavens will also be pleased to note that its IPS touchscreen is full HD with a resolution of 1920×1080. HD Video footage looked great.
Add a dollop of 6GB of DDR3 memory, a 256GB SSD drive, and a NVIDIA GeForce GT730M GPU with 2GB installed and you've got a wafer thin machine that's good for basic gaming and yet light enough to go anywhere.
Its screen also impressed. The IPS LCD display not only delivered accurate colours, but also ensured that onscreen action was viewable over a 178-degree angle. The screen also incorporates 10-point multi-touch. Which was useful for driving Windows 8's touchy-feely interface.
Asus also win points with connectivity. Where a lot of Ultrabooks tend to be stingy with USB, Asus have included three USB 3.0 ports. One port handily outputs extra amperage, so you can charge a phone or tablet at the same rate you'd get from a mains USB adaptor.
I also liked the fact that a full-sized HDMI port was also included alongside a mini DisplayPort. Unfortunately there is no dedicated Ethernet port (the DisplayPort doubles up as an Ethernet port, but the adaptor is yet another thing to lose).
Aside from its HD screen, photographers will also like the UX302's SD card slot for quickly viewing and editing photos.
While the UX302 has a headphone socket, its built in speakers have a good pedigree being made by Bang & Olufsen. They're also hidden on the left and right edges of the UX302, which is a good thing, as they don't add to its bulk.
Audio quality isn't bad but given their tiny size, they sound a little thin. For desktop use, external speakers with a decent sub may be a good option if added oonst is a priority.
In Use
With typical use and auto brightness enabled, the UX302 ran for a reasonable 4 hours 55 minutes. I'd refrained from comparing the UX302 to the MacBook Air, but I'm still waiting for an Ultrabook that can deliver the 9 and a half hours use that I usually get with a MacBook Air. Results may vary depending on a bunch of factors such as the running apps, proximity to a wireless router and screen brightness levels.
Battery life aside, the UX302's scrabble tile keyboard sported large backlit keys. I was also pleased to see that I could tweak backlighting levels, which made using it at night or in fading light easier.
In use its keyboard felt firm with a surprising amount of action for such a slimline Ultrabook. The real test for me is touch-typing a document. This worked flawlessly with the UX302 which provided comfy QWERTY.
Verdict
The UX302 is a solid Ultrabook that delivers a sensible balance between portability and usability without many obvious compromises. While I'm skeptical about its glass-topped lid, I was taken with its overall usability. Specs-wise the UX302's HD screen, GPU and CPU also make it a great media device that can turn its hand to basic gaming. The UX302's svelte form-factor and performance does command a sticker price of $2,399, which could limit its appeal to buyers on a tight budget.

Tech Specs
RRP NZ $2,399
Operating System: Windows 8 Pro 64 bit
Chipset: Intel HM87
Processor: Intel Haswell Core i7-4500U CPU at 1.8GHz, 4MB Cache
Memory: 6GB DDR3 1600MHz
Display: 13.3-inch Full HD IPS Touch display at 1920 x 1080 resolution
Graphics Processor: Integrated Intel HD Graphics 4400, and Nvidia GeForce GT 730M 2GB
Storage Drive: 256GB SSD SATA III
Connectivity: WiFi 802.11 Dual Band, Bluetooth 4.0, LAN (with adapter)
I/O Ports: 3x USB 3.0, 1x HDMI, 1x mini DisplayPort, 1x mic/headphone jack, SD card reader, HD Web Camera
Audio: Built-in speakers Bang & Olufsen
Battery: Lithium Polymer 50 Wh
Size: 325mm x 226mm x 17.2mm
Weight: around 1.5 kg