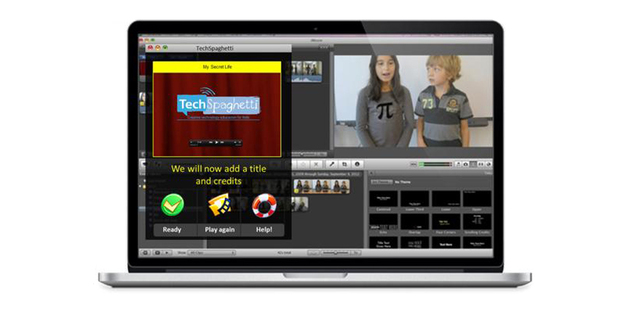 I've talked recently about three San Franciscan developer concerns - and New Zealand smarts keep coming to my attention, which is always good.
Wouldn't you like to give kids an innovator's toolkit? That's TechSpaghetti's aim - it was created by a pair of New Zealanders designing school lessons that run on Macs and iPads.
Kiwis Leah Hinton and Elliot Tabachnik created the online learning platform which is currently coming to the attention of the international education technology scene. The two moved to Berlin from Wellington two years ago - Hinton is a teacher with wide experience and Tabachnik is the entrepreneur.
TechSpaghetti consists of online lessons for students aged 6-12 through the creative concepts and technical aspects of developing their 'Young Innovator's Toolkit'. This includes skills such as communicating through digital media and engaging audiences online. The Toolkit develops innovation by 'scaffolding' children through creative concepts and processes, rather than them just learning subject matter or how to use a particular computer program.
The aim is that TechSpaghetti students become innovators rather than imitators: the creators, inventors, entrepreneurs and leaders of tomorrow. Which we all know New Zealand needs.
The pair launched an Indiegogo crowdfunding campaign on 10th June, following a very popular pre-launch event in Berlin, Germany. The Indiegogo campaign will run until the 22nd of July, with proceeds going towards the development of TechSpaghetti's online platform.
As Elliot Tabachnik writes, initially, the home versions will be Mac/iPad as well. "We may need to consider introducing lessons for PCs and generic tablets, depending on demand and the level of support we receive from the Apple community, but have a strong preference for focusing on Apple."
TechSpaghetti online lessons guide children through creative concepts and technical aspects of developing their 'Young Innovator's Toolkit', such as communicating through digital media and engaging an online audience. Each series of lessons results in children completing their own innovation showpiece, such as a film, soundtrack or website.
TechSpaghetti's Chief Educator Leah, who developed the concept during her eight years teaching in New Zealand, the UK and Germany, writes "There is a long-term trend away from routine-oriented work which requires people to do the same things every day, and toward creativity-oriented jobs that ask people to engage in analysis and to make judgments. We need to mould creative thinkers and problem solvers who can learn, unlearn and relearn."
Hear hear. Looks like they deserve support.
Angus The Irritable Bull
Technology and art played equal parts in the creation of a high-tech children's ebook app for iTunes. Angus The Irritable Bull was created by trans-Tasman illustrations agency Watermark Ltd. It's a downloadable app that allows users to interact with its characters and story.
Watermark director Dean Proudfoot wanted to produce a fantastic user experience, and this meant focussing on the technology just as much as the illustration and story.
Daron Parton drew the illustrations and David Way, head of the agency's animation wing, brought them to life. Way worked alongside Auckland-based developers Roam, which specialises in iPad apps. Roam's input added features and options that greatly improved the experience, according to Way.
David Liversidge at Radiate Sound provided the audio elements, including some rural effects and narration by Helena McAlpine.
The app was built using Unity, the common platform of 3D gaming. This was found to be the perfect tool to develop a book app, with very few of the movements needed to be animated outside of the Unity programme. (Unity recently added a 2D update ideal for developing app books. Using Unity also makes cross platforming easier - if there's demand for an Android version of Angus, that shouldn't be a problem.)
Great consideration was given to the balance between story and interactivity. Each page has interactive elements, animation, music and sound, combining to bring Angus' life on his farm vividly to life. Users can customise the app to how they want to experience the story, which is aimed at children aged 4 to 6 years.
Many apps are made by manipulating existing artwork from published, physical books, but Angus was designed and illustrated as an app from the very beginning. But the artwork was all painted traditionally in individual pieces to give the app a hand-crafted quality.
The app features full retina resolution artwork with interaction on every page - there are more than 80 touch points throughout the book. The music and narration was professionally and it has options for narration (in English), sound, text and music and it's aimed at kids 4-6 years old.
You can watch a promo for it on YouTube.
Meanwhile, in the library ...
A cloud-based content management system called StellarLibrary.com was the brainchild of Rotorua local and Life Pharmacy operator Brett Fordyce.
Andrew Bagnall, who floated Gulliver's Travel in 2004 and sold his 27% stake for $67 million in 2006, has invested more than $1 million into the fledgling venture.
Fordyce hit on the idea while in the final stages of his MBA thesis at Waikato University in 2011.
He was investigating the merits of introducing iPads to the MBA programme - his research showed people wanted a simple application to manage all their information.
This spurred Fordyce and fellow MBA study partner Johnny Louie to start work on a cloud-based system that allows document owners to create their own private organisation library on a secure delivery platform - iPad.
The company has since developed a version for Android; a Windows version is also being developed.
So far 20 customers - mainly large health and FMCG organisations - had signed up to Stellar Library. Simplicity is its key advantage: no training is required and the system was ready to go once users had installed the app.
A free 30-day trial is available.
Please do keep sending me your news.