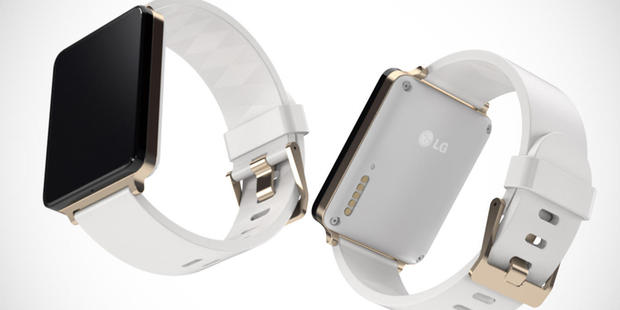 False starts and mixed success pretty much sum up the emerging smartwatch market. So has the newest smartwatch on the block, LG's G Watch powered by Google's newly announced Android Wear OS, got what it takes to go up against the likes of the Pebble or the much hyped (and yet to be seen) iWatch? Big brands such as Sony and Samsung have given it a crack with mixed success. Only a few such as Pebble have so far got it right.
Analysts are forecasting big things in the wearable category from 2014 onwards. This hasn't exactly passed Google's attention and they've launched Android Wear which is designed to be more energy efficient and portable. So far Motorola, Samsung and LG are supporting the Android Wear platform.
Rumours about an LG smartwatch have been circulating for a while, so I jumped at the chance to some early hands on time with an LG G Watch.
I was unable to get the hardware specs confirmed, but from what I saw the G features a 1.6" colour IPS LCD display and 4GB of internal storage and a hyper sensitive accelerometer.
Look and feel
LG had previously released a 3D render of the G Watch online, but the render doesn't do the real thing justice. The G is a good looking piece of tech that'd be at home on the wrist of a suit wearing exec or a jogger.
Looks aside, the G Watch was also pretty petite. Compared side by side, the G Watch made my Kickstarter edition Pebble watch seem like bit of a chubber.
The G Watch employs a traditional digital watch-like rectangular design. This might mean there's less gee wiz than with some other wearables. The upside however is that there's little to no learning required for simple tasks like reading incoming messages or even telling the time.
The G is built out of a combination of plastic and stainless steel and the big bonus is that it has a replaceable band. It also lacks any physical buttons, being touch screen driven. The only noticeable feature are contacts on its back which are most likely for charging. LG will be releasing the G in several colour combinations. The G Watch I handled was "Champagne Gold" which equated to a white strap, gold and white body and a black front panel. It also comes in a "stealth black" finish which should prove handy for special-ops and ninja wannabes.
Bells and Whistles
There's a tonne of nifty features baked into the G Watch. Most noticeable is its "always on" display. Vibrant LCD displays may be eye catching, but they chew through battery life. Pebble got around this by using an energy efficient (but drab) e-ink display. LG have opted for an energy efficient 1.65" IPS LCD display that is colour, looks great and tells the time when in sleep mode, extending battery life without compromising usability or looks.
Another nifty feature is Google voice-recognition. This lets wearers talk to their wrist in Dick Tracey style to set appointments, send texts and do searches by saying "OK Google". Nicer still, the G is also IP67 rated, making it water resistant for up to thirty minutes to a depth of one metre.
One of the big bug bears with smartwatches has been their need for frequent recharging. The G Watch makes use of an Energy-efficient Snapdragon 400 CPU (clocked at 1.2GHz), which in combination with the energy efficient Wear OS and CPU should deliver a respectable battery life.
The G Watch will be available in two colours - Black Titan and White Gold - and is constructed of PVD (Physical Vapor Deposition) coated stainless steel with a rugged silicone wristband. The G Watch can also be personalised with standard 22mm watch straps.
When?
Features aside, the big question is when and how much? If the rumour mill is anything to go by the G should hit retailer shelves in the northern hemisphere any time now.
No information was available on pricing but NZ pricing should be out soon.
Verdict
While it's hard to pass judgement given the small amount of time I spent with the G Watch, several things stood out.
The build quality seems good. The unit I examined was a manufacturing prototype yet it felt solid with no flexing or mismatched case components.
The G Watch was also pretty comfy. Other smartwatches I'd tested had a habit of catching on shirt sleeves or just getting in the way. Not so with the petite G Watch whose digital watch sized body was sufficiently slim that it didn't cause any in-sleeve carnage.
On the functionality front, simplicity won out. Touch screen operations and a lack of moving parts not only meant it was dead easy to use, but that there were also less things to wear out. Several buttons on my Pebble are already crapping out so this is something that's likely to be a big point of difference for LG.
The G Watch will work with most Android 4.3 and 4.4 devices with the G Watch app installed. It doesn't appear that the G Watch will support IOS out of the box, although support may come later via a third party app.
At the end of the day, great design, a reasonable price tag and solid usability make for what appears to be a pretty decent smartwatch. By keeping it simple and avoiding creeping feature-itus, LG could have a winner on their wrists.