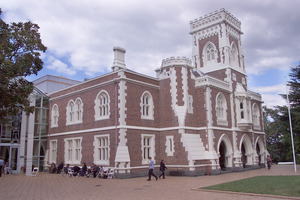 The former directors of a collapsed Auckland internet provider are accused of "taking a gamble" with creditors' money and are now being chased for compensation by the failed firm's liquidators
The case against the trio is due to begin in the High Court at Auckland this morning and is scheduled to take seven days.
Rowan Kenley Johnston, Stephen Andrews, George Poykail Thomas were directors of NZNet internet Services, a company set up in 1995 that boasted "state-of-the-art network infrastructure "offering "business grade"performance to its customers.
But according to its liquidators, NZNet had been unable to pay its debts since February 2008.
The liquidators, Damien Grant and Steven Khov, allege in court documents that Johnston, Andrews and Thomas elected to trade NZNet while it was insolvent.
Since the firm went into liquidation in November 2011, creditors - including Johnston and Thomas -- have filed claims for $1,102,863 from NZNet.
Grant and Khov allege in their statement of claim that the trio caused or allowed NZNet to be run in a way likely to put creditors at risk of "serious loss".
Johnston and Thomas are accused of not acting as prudent directors as they left Andrews to run the business "without sufficient control".
The three men "poorly managed" NZNet's business, say the liquidators, and allegedly didn't pay close attention to company's financial state or have financial records that were properly kept or readily accessible. The company also held "ad hoc, irregular and poorly documented" board meetings, the liquidators claim in court documents.
"In effect, the first to third defendants [Johnston, Andrews and Thomas] have taken a gamble with the creditor's funds," Grant and Khov have alleged.
According to the Companies Office, Andrews has been a director of the company for almost its entire operation. Thomas, on the other hand, was a director for only a matter of months in 2011. Johnston became a director in 2009 and resigned two months before liquidation.
It is understood Johnston has previously been an adviser at high-profile brokerage firm Forsyth Barr.
The trio are accused of, after February 2008, taking illegitimate business risks by incurring more debt at NZNet without any reasonable prospect of repaying what was already owed.
The liquidators are seeking orders from the High Court that the men provide compensation, but do not specify an amount in their claim.
The liquidators are also wanting orders saying the men are personally responsible for some or all of the company's debts.
The Herald attempted to contact a lawyer believed to be representing one of the defendants on Friday afternoon but he did not return calls.