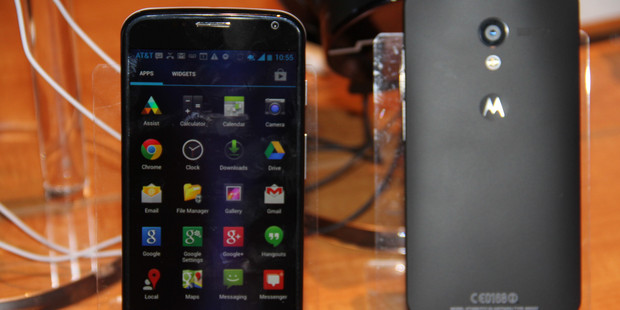 When Motorola launched the Moto X, it caused a bit of a stir. It is the first phone released by Motorola after they were bought by Google. Many speculated that the X could even give the Nexus a run for its money.
Motorola have a long track record for releasing well-designed phones that aren't all that exciting. Could the Moto X buck this trend?
Excitement was helped along by the launch of Moto Maker. Moto Maker allows Moto X buyers to customise their phones. Combinations ranging from coloured fronts to bamboo backs were all possible. It gave Motorola a compelling point of difference in the ultra-competitive US smartphone market.
Sadly, Moto Maker isn't available in this part of the world. This is a real shame as it'd give Motorola an edge over other big brands such as Samsung, Sony and HTC.
Look and Feel
The basic layout of the Moto X is pretty predictable. All the buttons and ports are just where your fingers expect them.
There's a micro USB port on the X's bottom, while the power and volume rocker buttons are on its right hand side. A 3.5mm headphone jack sits atop of the X.
Buyers may also find themselves seeking a replacement SIM as the X uses the teeny weeny Nano SIM.
Fancy pants bamboo backs are not available in NZ which means that the X has a soft touch back which is grippy. The X's back is non-removable which means access to the battery isn't possible.
Its 4.7" AMOLED screen seems small but it is vivid and crisp, and displays the time and pending notifications when pulled from a pocket whilst in standby.
The Moto X goes against the grain, being petite when palm stretching phones sporting XXL screens are all the rage. This does confer it with a key advantage - comfort.
In the hand it feels great and it is dead easy to slide into a pocket or purse. This may not sound like a biggie but in real world conditions it makes a considerable difference.
Size aside, the Moto X's high level of in-hand comfort is thanks to several clever design features including a curved back and body. The designers at Motorola decided to place the thickest and heaviest part of the X just above the centre of the phone. Doing this shifts its centre of gravity to make it feel almost like a part of your hand when holding it.
This sort of craftsmanship might be normal in high-end chef's knives, but nonetheless it's a welcome addition to the smartphone genre.
Under the Hood
You'd be forgiven for thinking that the Moto X was unexciting given its specs on paper. This said there's much more to the X than meets the eye.
At a glance it looks a lot like a mid-range device. Where quad core CPUs are the norm at the top end of town, the Moto X uses a 1.7 GHz dual-core Snapdragon S4 Pro chipset, the X also packs 2GB of RAM (plus 16 GB of storage). Inside its curvy body sits a 2200mAh battery.
One glaring omission is the lack of a microSD slot. This limits the X's usefulness for those who use their smartphone as a media player.
A 10 Megapixel camera sits flush with the X's rear. The lack of camera bump to catch on pockets adds to in hand comfort and means that its delicate optics are less likely to get scratched. This said, I often found myself smudging its lens with my fingers in every-day use.
Motorola have done well with the X's interface which appears to be stock Android 4.4.2 with a few Motorola apps thrown in. These are there for a good reason - they add a huge amount of functionality.
This approach extends to the Moto X's hardware and this is where the X has an edge over competitors. As well as a Snapdragon S4 Pro dual-core CPU and chipset, Motorola added two contextual processing units.
One is for language processing, giving the X its Touchless Control feature. The other allows the X's sensors to detect how it's used so it can show Notifications or even activate the camera.
Touchless Control is a killer feature that worked well. Saying "OK Google Now" saw the X's screen power up. Without touching its screen I was able to dictate a text message, call a contact, set alarms or get directions using Google Maps.
Before it was usable, I had to train it to understand my voice. There is no New Zealand English option. This said, it understood me fine once I'd chosen Australian English (strewth!).
Touchless control works with Google now, but didn't otherwise seem all that smart. Asking it to tell you a joke for instance takes you to Google search results for jokes. Bit of a shame that.
This said, its voice recognition was unerringly accurate - I'd used voice recognition with other devices and found that in a noisy environment it became more miss than hit. Not so with the X.
Nicer still, the contextual processing unit allows the X to respond to voice commands when in standby.
Another feature that helps the X bat above its pint sized form factor is Active Notifications. These take advantage of the X's AMOLED screen, which only uses power for the pixels being illuminated. This results in less battery drain.
The second contextual processing unit also allows the Moto X to track built-in sensors. If these sensors detect that you've picked up the X or pulled it out of a pocket or purse, it'll power on the screen so you can unlock it. It mightn't sound like a big deal but in practice it felt like black magic.
I also found the various utilities bundled to be pretty useful. My Personal favourite was the Motorola Assist app. Assist used GPS to sense when I was driving and read out incoming text messages or played music. It also silenced the phone if I was in meetings (these had to put into the calendar first), while useful, they did put a modest dent in battery life.
Motorola's engineering team earned their stripes by managing to fit a 2200mAh battery into the Moto X's tiny body. In use I found the X lasted a full day before crying for charger time. Given the amount happening in standby mode this makes considerable sense.
Verdict
The Moto X adds some really clever and useful functionality to a stock Android interface. This is all bundled up in a phone that has a great screen that also happens to feel fantastic in the hand thanks to an exceptionally clever design.
Touchless Control and Active Notifications greatly extend the X's functionality. Both are something that other handset makers should be looking to emulate and are insanely useful.
I'd also have loved to have had the option of accessing Moto Maker. Customising the X could have been a pretty convincing selling point for the Moto X. Here's hoping it launches in NZ sooner rather than later.
Tech Specs
RRP $ 599
Network (2G) 850/900/1800/1900 (3G) HSDPA 850 / 900 /1700 / 1900 / 2100 (4G) 700 / 850 / 1700 / 1700 /1800 /1900 / 2100 /2600- for AT&T
Dimensions 129.3 x 65.3 x 10.4 mm
Weight 130 g
DISPLAYAMOLED (720 x 1280 pixels), 4.7 inches (312 ppi)
Storage/RAM 16GB/2GB
WLAN 802.11 a/b/g/n/ac, dual-band, DLNA, Wi-Fi hotspot
Bluetooth Yes, v4.0 with A2DP, LE, EDR
CAMERA (Rear) 10 MP, LED flash, (Front) 2 MP,1080p
OS Android OS v4.4 (Kit Kat)
Chipset Qualcomm MSM8960Pro Snapdragon
CPU Dual-core 1.7 GHz Krait
GPU Adreno 320
BATTERY Li-Ion 2200 mAh battery
Stand-by Up to 576 h
Talk timeUp to 13 h