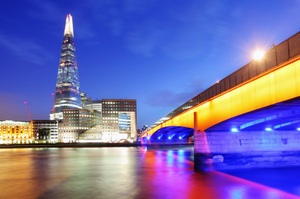 SMOKE AND MIRRORS: Looking for privacy in your top floor hotel room in London's highrise Shard building? Better keep the lights off then, as the building's design includes protruding glass panels at the corners. At night, with a dark background, a room's lights can turn those windows into mirrors, giving anyone in neighbouring rooms a good view of activities. The hotel has supplied blinds for privacy, but then guests have to remember to actually use them. There's just no privacy left any more.
THE FLYING EYE: The Bebop Drone from Parrot carries an HD camera fully stabilised on 3 axes and able to take wide angle 1080p video without distortion. The drone includes WiFi and GPS and holds 8GB of images on a flash card. The 400 gram drone can safely fly indoors or out and has a WiFi range of up to 300 metres. Control it via an app on a smartphone or tablet.
The Lithium Polymer Battery flies the drone for around 12 minutes after a 2.5 hour charge. That's a lot of charging for a brief flight, unfortunately.
ON THE CLOCK: Nurses in hospitals often need to attend to certain tasks at very specific times, for example administering medication or changing a catheter. Keeping track of all those timings can be complex though, which is why one biomedical engineer in the US has created a low cost single use timer than can be worn like a bracelet. Her invention is still in the manufacturing stage but has been welcomed by practising nurses. I guess it's yet one more item in medicine that can be used only once.
STICKY SOLUTION: If you earn less than $2 per day you're hardly likely to own a computer, and that's a reality of life for millions of people around the world. Keepod though aim to bring computers to some of the poorest, including the half million people in the slums of Nairobi. Keepod is a USB flash drive that includes a unique desktop version of Google's Android 4.4 operating system. The idea is that the drive can be plugged into old PCs without hard drives to boot the computer and as a place for saving files. It also keeps settings, passwords and browser history. That means that schools could use old PCs without the problems associated with multiple users. Keepod aim to extend the plan to India, Israel, southern Italy, and other parts of sub-Saharan Africa. That's a slick solution to a big problem.
PIPES AWAY: If you have to lay a pipeline below the sea and over a long distance then just how do you do it? One answer is to use a vessel like the Audacia and its 270 crew. The ship can carry 14,000 tons of pipe whose outside diameter ranges from 5 to 150 cm. Sections of pipe travel through an assembly line on the ship to be welded, tested and coated and then sent through a prominent bow spur to sink to the seafloor. A powerful pipe tensioner controls how quickly the pipe is let out. The vessel, around 225 metres long and 32 metres wide, can lay around 30 metres of steel tube every minute. That's quite a production line.
Miraz Jordan, knowit.co.nz