Pat Pilcher goes behind the scenes at Seoul's LG factories.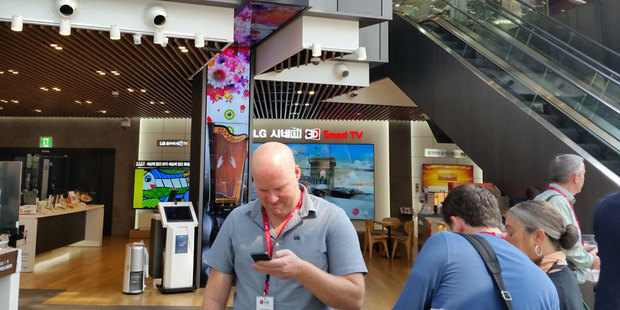 Day 1
I awake to Seoul. It's the second largest metropolitan area in the world with just over 25 million people. It's hard to reconcile Seoul's affluence to the bombed out war zone it once was. Back in the 50s it changed hands between US and communist sides several times. Each time more was destroyed. The South Koreans haven't just rebuilt, they're thriving.
A short ride from our hotel and we're deposited at LG's store at the Hakdong intersection in trendy Gangnam. Our guide says LG spent US$10 million buying its location.
The store covers 1,653 square metres across 5 floors, showcasing everything LG makes.

Individual floors cover gadget genres and I'm like a kid in a candy store with a credit card. There's TVs, audio visual gear, computers, washing machines, lighting and robotics.
We're soon out of time - which is probably a good thing. I could've blown luggage allowances and credit limits several times over.
We head to Paju where LG make the LCD and OLED panels that go into their TVs and phones.
The drive was uneventful until our guide mentioned that the hills across the highway were North Korea. We then notice barbed wire, gun emplacements and serious looking soldier types. There hasn't been any fighting for some time, but the steady stream of crazy from the North keeps tensions high.
Nothing prepares you for Paju. Calling it a factory is a bit like calling the death star a Christmas decoration. Employees lease apartments from LG for as little as US$1 a month and there's shops, restaurants plus all the other trimmings of a small city.
At 4.5 square km the factory is massive. Its show room is like a set from 2001: A Space Odyssey. Everything is glossy and futuristic. In the foyer I spy a massive 105" 21:9 ultra HD TV. Anticipation levels rise.
We're shown a model of the factory by an LG representative. When asked about its proximity to North Korea, he shrugs and says "Don't worry, the missiles will go right over us".
The first display we're treated to is a 77" Ultra HD OLED panel. Using organic light emitting diode (OLED) technology results in incredible contrast levels. Pitch blacks and brilliant whites make images look razor sharp. Colours are vivid but not over saturated. With 4x the resolution of a 1080p display, it's impossible to make out pixels until you're right up close. Watching a demo is like looking through a window.
My jaws on the shag-pile and we move to a smart coffee table with a touch-screen. I spy an on-screen post-it note and scribble "hello" using my finger.
The LG representative asks me to flick the post it note towards a mocked-up apartment window. I try it and the post it note pops up on the window, which is a transparent screen designed to be installed as a window.
I walk up to it and swipe the note. LCD shutters close across the window - looks like curtains could soon be a quaint anachronism like CRT TVs.
Transparent displays are also showcased in a wine chiller fridge filled with groceries. I tap the glass by a pot of yoghurt and nutritional information, its expiry date and recipe options pop up. Mind blown.

Photo / Pat Pilcher
The showroom tour draws to a close. We're handed 3D glasses and walk through a tunnel of floor to ceiling 3D panels displaying an asteroid field. Beer o'clock on a Friday night with an Xbox must be fun at Paju.
We head across to the display panel factory. It's so vast we can't see its other end. We're confined to a sealed room as the factory is a clean environment. Dust motes would play havoc with manufacturing processes.
There are only six workers dressed like spacemen in the entire building. Everything else is monitored offsite. Having taken a look at the factory, we head upstairs before heading back to Seoul. There are binoculars on tripods by the windows and our guide explains you can see North Korean guard posts. I take a peek and spot some run-down buildings.
Tomorrow we're off to Seocho where LG does its research and development. I'm imagining it'll be a lot like a high-tech version of Willy Wonka's chocolate factory. I can't wait.
Pat Pilcher travelled to Korea as a guest of LG