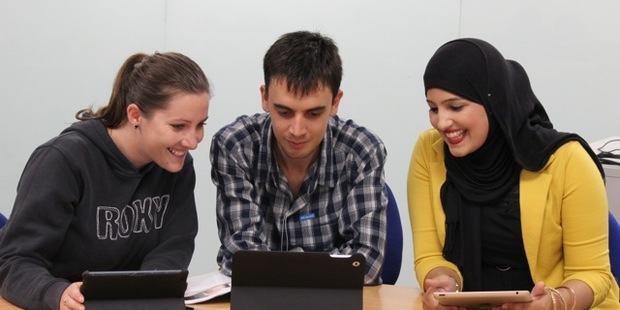 Recently I wrote about iPads and other Apple systems being deployed in learning institutions. Here is a NZ example in more detail. Auckland's Unitec Institute of Technology is in the fourth year of an institute-wide eLearning strategy, and now the scheme is moving more rapidly into implementation in various areas of the campus. A lot of this hinges on a bring-your-own-device (BYOD) approach for both staff and students, to fit into a coherent curriculum approach across the institution. The key to the strategy is sorting the teaching and learning environment first and then identifying tools and technology to support learning goals.
James Oldfield, a senior lecturer at the Department of Accounting and Finance, took the initiative to pilot the possibilities of eLearning, with the result that his department is probably the most mature in the development of programme-wide BYOD.
Linda Keesing-Styles, Dean of Teaching and Learning, points out that the campus-wide strategy is BYOD, but James recommended the iPad for his department. Many other courses will be non device specific. "But James has been very particular with his students."
In 2010, James' department shipped some of the first iPads over from Australia to evaluate them against netbooks. "A lot of positive feedback there led us to experimenting further with our staff, and between then and the start of this year, I've been working on a model for teaching with mobile devices called Mobile Authentic Learning." This is based upon an educational model called Authentic Learning, then layering mobile learning principles over the top. "That culminated in me working with my class three semesters in a row with all the students loaned an iPad for the whole semester [for an Informational Systems course]. We replaced the textbooks with a series of iBooks I created with iBooks Author." The course changed the way the assessment works by taking away exams and replacing them with assignments that were more realistic, with "tasks they'd be performing in the real world."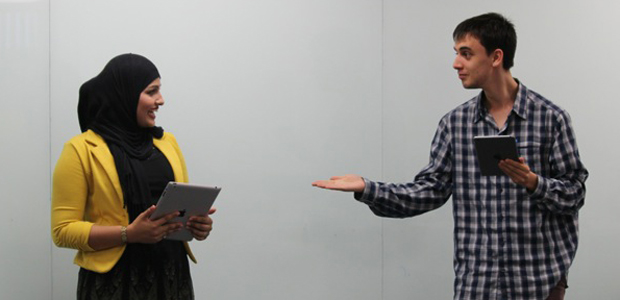 "In addition to that, all of the in-class activities of the course have utilised the iPad. It's a technology-based course, and we chose the iPad for a number of reasons for that initial pilot, we've had such positive feedback from the students that we've now got to the point that we've mandated students to have access to an iPad for the first five courses of our degree."
Students are encouraged to buy them. James pointed out that the textbooks students were formerly required to buy came to about the same price as an iPad mini with Retina Display - with the new iBook textbooks available for the first four courses free, the outlay is the same: the cost of one has been traded off against the other.
"For the particular program, the Bachelor of Business Program, for us, our context and our students, the iPad seemed to be the most logical choice. This device has become quite prominent. It's the leading device in education and business, according to the last lot of surveys that I've looked at, so for our students learning how to use one of these seems to be more applicable than learning one of the other platforms.
"It's also got benefits for us in terms of security, so we don't have to worry quite so much about virus threats with iPads. They're very reliable, so they get high consumer satisfaction results. The iBooks platform is excellent for developing content, so that's enabled us to pursue our strategy of developing content internally, to make this strategy more affordable.
"Effectively, we've worked along the lines that this is our highly-recommended device. In a normal course, you might have a recommended or required textbook; there will still be some students who don't buy the textbook ... [but] People are used to dealing with textbooks so this is really no different at a base level, plus you get all the advantages of the other things the device can do."
Unitec organised a deal with JB HiFi for student iPads. Apple has a student scheme in which a buyer gets an iTunes voucher for content (apps etc). JB put together some bundles at special prices for the Unitec students, including accessories like iPad cases. JB also offers interest-free buying schemes.
Linda acknowledges the issues. "Over the period of time that we've been moving to the BYOD and Mobile Learning, we were really concerned in the early days about issues of equity and access for students. But it became very clear to us from very early on that the students wished to own their own devices, and in most cases had them already." If they don't, the conversation is around the iPad being a different tool to a textbook and other student tools. The cost can be added to student loans and offset in various ways. "So it's never been a barrier, but if it is, we have a small pool of loan devices." Unitec itself offers several grants that can be tapped in cases where additional support is required.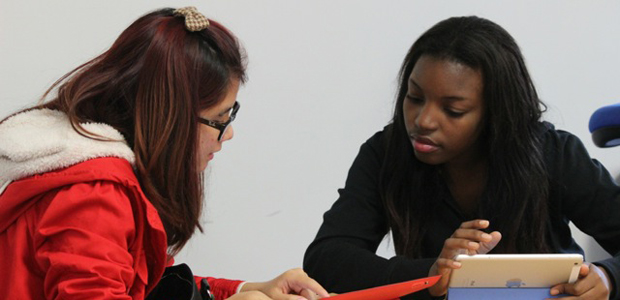 The iBooks James developed have all sorts of different types of embedded content in them - it's one of the strengths of the platform. Unitec could, conceivably, sell some of these (or parts thereof) into other institutions' courses in future. He likes the format as he can repurpose chapters into publications to suit different needs, as can outside iBook textbook publishers - some already do. "Our students should save money in the long run."
But James presents with his iPad too, using AirPlay. His classes have 48 seats grouped around round tables, all connected wirelessly to a projector that shows where everyone can see. James can show them things on his iPad, and students can take turns to do the same on theirs. For this they use Apple's Keynote, and the third-party app Prezi among others. "AirPlay is a really great protocol. It's Apple-only, but it works really well, so students can easily just flip up the Control Center and display their content, for sharing and generating discussion."
He doesn't use the iPad alone, although he finds himself using it a lot. James needs a MacBook Pro to develop the iBooks.
James is pleased Microsoft has finally made Office available for iPad, and all Unitec students get free Office 365 accounts. "We do a lot of cloud-based work." This has been a bit of a mishmash so far: Dropbox, Google drive, iCloud ... but Unitec is developing a more coordinated cloud platform for the future.
Linda adds that James has "Shifted the learning demand for students. What he's doing is working students into the authentic business environment... right from the beginning he's giving them a capstone simulated industry experience they'd normally wait three years for."
In James' particular course, the students are also sometimes required to use PCs (not Macs). Coursework is submitted online, with the exception of a poster project which has to be printed - the sole printed page in the whole course. But even this is brought to life with augmented reality - view the poster though a device and you might see video, words appearing, animations, maps ... the image is the trigger; it's cutting edge stuff. James appreciates the fact that the use of devices also helps engage the students, at the same time as readying them for the business environments they are being schooled for. In some cases, the students are ahead of what's being used in business, but this will ultimately be good for the businesses too.
James and Linda both emphasise the reason that the reason the iPad rollout went so well is the time putting into the scheme, and the initial capability development of the teachers, but even so they feel it has been a relatively quick transformation.