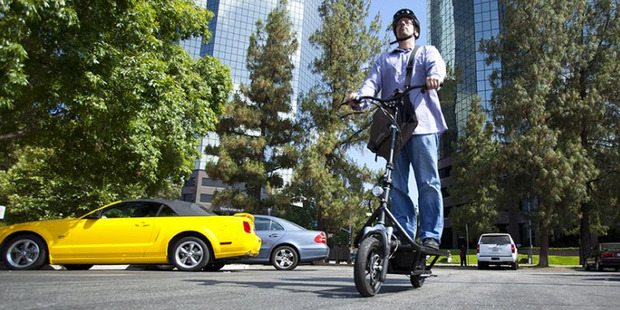 THE SUN'S PUSH: The Solar Electric Scooter has the standard 2 wheels and platform for your feet, along with handlebars. You don't have to put a lot of energy into pushing it though, as the wider than usual platform is a sturdy solar panel. The scooter's maximum speed is 24 Kph and it can carry its rider up to 32 Km. The solar panel itself can carry a rider up to 158 Kg. The Lithium Ion battery takes between 2 and 8 hours to fully recharge from the sun or a separate charger. Be careful where you stow the shopping bag.
HEADS-UP: The Guardian smart motorbike helmet features a transparent heads-up display powered by dual micro projectors. The helmet takes input from a wide angle HD camera on the back and an HD camera for video and stills on the front, along with a 3-axis accelerometer, a 3-axis gyroscope, a3-axis magnetometer and ultrasonic proximity sensors then processes it to assist the driver.
A microphone allows for voice control and the whole thing is powered by an extended life lithium ion battery. Speakers, Bluetooth and WiFi round out the capabilities. The rider can control the HUD with voice commands, switching between urban, touring and other modes in the Safety Through Augmented Reality System. The system can warn of weather and traffic conditions, locate friends and petrol stations, take photos and provide directions. Now the rider just has to remember to actually watch the road.
DRAW THE CONNECTIONS: Need to make an electrical circuit? Toss the wires and use Bare Conductive's Electric Paint instead. It can be used as a liquid wire to draw or print graphical circuits, or as a conductive adhesive meaning soldering isn't required. The water soluble paint can be put on with a brush, roller, via screen-printing or stencil and can be applied to a wide variety of materials, including paper, wood, metal, plaster, plastics and textiles. That could make for some interesting graffiti.
METAL HOOK-UP: When peripheral nerves are severed muscles may atrophy, reducing quality of life. Severed nerves can grow back but it's a slow process, often too slow for lost function to be restored. Chinese biomedical engineers worked with severed nerves in the lab and found they could use the liquid metal alloy gallium-indium-selenium to transmit pulses across the gap almost as effectively as a live nerve. This discovery could eventually allow doctors to temporarily reconnect severed nerves so they have a chance to regenerate. It's a shame they can't just draw in a connection.
Miraz Jordan, knowit.co.nz