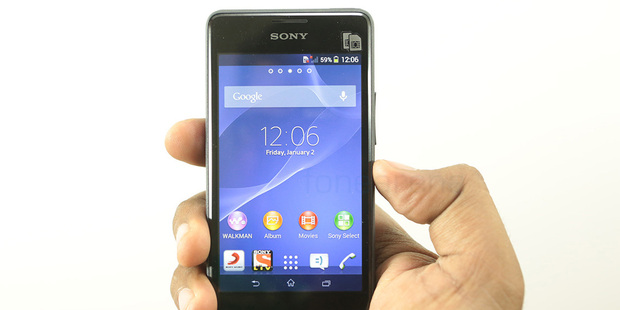 There's a lot of hype surrounding big brand flagship smartphones but no so much about mid-range handsets. They may lack the specs but they do offer similar functionality at a more compelling price point.
A case in point is the Sony Xperia E1. It's able to do most of what its upmarket sibling, the Z1 can do, but given its spec and price, some concessions have been made.
This said, the E1's compromises are only likely to be an issue for power users. For normal use the E1 offers great performance and value for money.
It mightn't have the latest bells and whistles, but specs-wise it's still a solid offering. Although its 4" screen isn't a cinemascope palm-stretcher, it is vivid, bright and accurate.
Powered by a 1.2GHz dual core processor, there's ample power for most apps. It even has a feature that's often omitted on other devices - a MicroSD card slot. MicroSD cards are affordable, and an ideal way to store media collections on the move.
For music fans the E1 has another standout feature - a 100 decibel speaker. It's far louder than those on most other smartphones I've tested. It's also ideal for sharing music and annoying people on public transport.
Look and feel
The E1 is 12mm thick, which whilst not after dinner mint wafer-thin, isn't exactly brick-like either. Curved edges and a textured back also make for a comfy in-hand experience.
The fact that the E1 has a plastic body rather than one crafted out of exotic alloys helps. This not only means it feels good but is also light enough not to tear the lining out of pockets and purses.
The E1's back is also removable, but the small indentation to insert a fingernail to remove the back cover proved tricky to find. Once located the sim/microSD slot and battery were all within reach.
Features
Given its very reasonable $199 sticker price, the E1's display was a pleasant surprise. It mightn't be as hi-resolution as the Z1's, but it did have the added advantage of being less power hungry.
This said, its resolution of 800 x 400 is perhaps the first hint that the E1 is a mid-range device. While fine for most smartphone tasks such as web browsing, texting and casual gaming, it isn't ideal for viewing HD movies.
The screen is also covered in a layer of plastic. Although it will protect from scratches, it isn't as tough as Gorilla Glass, but it is lighter.
The review unit comes with Android version 4.3, and the standard Google apps are all present. Sony have bundled a bunch of apps including their Walkman app, Music Unlimited, TrackID and several others.
The E1's interface is a high point. Like Sony's other Android handsets, Sony have avoided unnecessary cosmetic fluffery.
Unfortunately the E1 only has 4GB of memory baked in. Add the OS and apps into the equation and you're left with a mere 1.5-2GB of storage. Thank goodness for its MicroSD slot.
The E1 was not waning in the connectivity department. It was good to see that aside from WiFi, GP/Glonas, it also came with Bluetooth 4.0 which is more power efficient and used a lot of wearable gadgetry.
Audio
Audio is the headline feature of the E1. Its ultra-petite speaker can belt out 100 decibels. This makes the E1 ideal for sharing music with friends and annoying the bejesus out of everyone else. It also has the Sony Walkman app and several audio tweaks built in which made for pleasing headphone audio.
Another nifty feature was shake to shuffle which proved handy when walking, allowing me to focus on walking instead of fiddling with on-screen controls and walking into a bus or lamppost.
Testing the E1's speaker showed that the old maxim "size doesn't matter" was on the money. Considering its petite size, the E1's speaker was piercingly loud.
This said it mightn't shake plaster off of any ceilings given its lack of bass but you can hear it from the other end of the house. When cranked up, some clipping was noticeable. This isn't surprising given the tiny size of the driver used. Either way there's little chance of missing a text notification with the E1.
Another audio feature worth a mention is the dedicated Walkman button. With a short press it acts as a play/pause button. Holding it down fires up the Walkman app.
Camera?
The rear 3 megapixel camera had no flash and at 3 megapixels it is weak - even in comparison with other mid-range devices. With 5 megapixel now the norm at the this end of the market, the inclusion of such a low spec is a disappointment.
The E1's camera did however do a surprisingly good job even in low-light conditions. Pixel noise was low and its focus was accurate.
The lack of a flash did however limit low-light testing. Under good lighting conditions auto scene recognition, manual mode and HDR modes performed well. Nicer still, the E1's volume control acts as zoom controls or a shutter button.
Battery-wise the E1 sports a removable smallish 1700mAh battery. Interestingly with typical use it lasted a day and a bit. The E1's promo blurb stated a talk time of just under 9 hours and a standby time of a whopping 498 hours. Given the deadlines involved in writing this review I didn't get a chance to test either.
A factor likely to figure in the E1's standby endurance is Sony's 'STAMINA' mode. This switches off all unwanted background tasks and mobile data when the screen is off which greatly extends the battery.
Verdict
All told, the Xperia E1 isn't bad. Its lightweight form-factor makes it highly pocketable. Specs-wise, it looks pretty anaemic until its $199 price tag is factored into the mix. For anyone on a tight budget who spends time in earbuds, the E1's solid bang per buck value and Walkman capabilities should definitely appeal.
Tech Specs
RRP: $199 (prices can vary by telco and calling plan)
Network: (2G) GSM 850, 900, 1800, 1900
(3G) HSDPA 850, 1900, 2100
SIM: Mini-SIM
Dimensions: 118 x 62.4 x 12 mm
Weight: 120 g
Display: TFT capacitive touchscreen, 16M colors, 480 x 800, 4", 233 ppi
Memory: MicroSD Card slot. Internal: 4 GB, 512 MB RAM
Connectivity: Wi-Fi 802.11 b/g/n, Wi-Fi Direct, Wi-Fi hotspot
Bluetooth 4.0 with A2DP
USB: microUSB v2.0
Camera: (Rear) 3.15 MP
OS: Android OS, v4.3 (Jelly Bean)
Chipset: Qualcomm MSM8210 Snapdragon 200
CPU: Dual-core 1.2 GHz Cortex-A7
GPU: Adreno 302
Radio: FM radio with RDS
Battery: Li-Ion 1700 mAh battery
Stand-by: Up to 498 h (2G) / Up to 454 h (3G)
Talk time: Up to 8 h 13 min (2G) / Up to 8 h 41 min (3G)