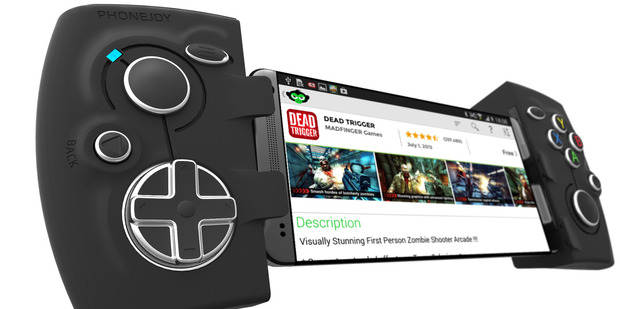 On paper gaming on one's smartphone sounds like the perfect match. I'm a smartphone addict and a total gaming fiend. Trouble is, I hate using smartphone touchscreen controls.
This is a real shame as there are heaps of great smartphone games out there. A growing number of smartphones can also mirror their on screen content to TVs, transforming them into pint-sized games consoles.
Thank goodness for PhoneJoy's new smartphone games controller.
Designed as an OS agnostic games controller for smartphones, it plays nice with Android, IOS and even Windows Phone. Testing also revealed it works fine with Bluetooth equipped PCs.
Others have tried to make similar smartphone game controllers and have failed miserably. Because of this I was naturally curious to see if PhoneJoy had managed to get it right.
After several weeks of use, I can safely say that they have nailed it completely.
The secret to their success lies in a clever telescoping design which sees the gamepad expand to fit around most smartphones. The PhoneJoy app also makes pairing effortless. Having two analogue joysticks a d-pad plus shoulder buttons totally transforms smartphone gaming.
The controller connects using Bluetooth 3.0 which translates into about 20 hours of battery life. Here's hoping that future iterations incorporate Bluetooth 4.0. It is also a compact beast - its spring loaded mechanism folds down into a tiny bundle which at 102mm wide and 87mm high makes it a great travel companion.
My biggest initial concern was that its spring loaded mechanism would be fragile, yet in use felt reassuringly solid. For a Bluetooth controller, it was also responsive - especially compared to touch screen controls.
The only fly in the ointment is that the gamepad requires games support Bluetooth accessory controls. This said, the range of compatible titles is growing fast thanks to competing products such as the iCade.
The PhoneJoy gamepad can be purchased online via the PhoneJoy website. Priced at US$69.90 (NZ$81.45), it mightn't be cheap, but it is easily the best smartphone gamepad I've used yet.