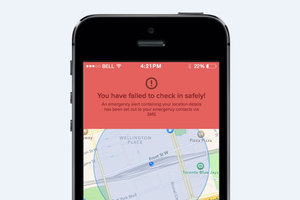 A former Victoria University student who felt unsafe on city streets has developed a smartphone app that keeps tabs on its user in dangerous situations, and is being recommended to Wellington students after two recent attacks.
Business development manager Vincent Wong studied at Victoria in 2012 and 2013, and moved back to Malaysia four months ago to join a team of four to develop the Watch Over Me app.
He said the app could help give students peace of mind, particularly after two sexually-motivated attacks on students walking in the Terrace area after dark on the weekend.
When activated on a smartphone, Watch Over Me will prompt the user to confirm if they are safe after a designated amount of time.
The app monitors the user's location using GPS and if the user doesn't make a confirmation within the allocated time, a text message is sent to their emergency contact.
The app also alerts users when they are entering a dangerous area.
"The recent case where the students were attacked in the Terrace [shows] it is potentially a high-crime area, so we will put it on to our map. Whenever a student passes by that area, they will be immediately prompted that it has been flagged as a high-crime area."
Mr Wong said when he was alone in the city, he often felt unsafe, and thought nobody would notice if he didn't make it home from university.
"My parents live overseas so if something happened to me, no one would really know," he said.
The app was also developed by a Malaysian woman who was kidnapped in a shopping mall carpark.
She managed to leap from the car she was bundled in to, but the ordeal spurred her to get involved in the creation of the safety app.
It's used by 136,000 people around the world.
Victoria University Wellington Student Association president Sonya Clark said while the app would give students reassurance, more changes need to be done to the Terrace/Boyd Wilson Park thoroughfare to keep people safe.
"[The app] would make you feel better but a lot needs to be done to make our city safer."
Ms Clark said it was not practical to tell students they couldn't walk in certain areas of the city at night or alone.
"We want to see more support for people who are walking at night.''
Wellington District Police Communication manager Nick Bohm said while anything that enhances the safety people is positive, police still urge students to walk in groups if they have to walk in the city at night.
The police have not made any arrests in relation to the two attacks.
- APNZ