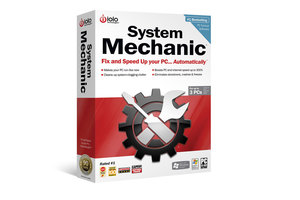 Chances are that if your PC hasn't had regular maintenance, you've experienced at least one of the following symptoms.
Start times have ballooned out. The browser and email are moving like a snail on sleeping tablets. The PC is becoming less and less responsive.
Some blame their ISP, others just yell and scream.
Unfortunately, most people don't know where to start fixing these issues. Others just don't have the spare time to learn the arcane ins and outs of PC maintenance.
The most simplest way to fix things without investing any time in a doctorate in computer sciences is a system maintenance utility such as System Mechanic which is a downloadable utility that sells for $49.95.
This digital fountain of youth for PCs repairs by using a bunch of tools that'll keep your PC running just like it did when you took it out of its box.
Having reviewed previous iterations, I've long been a fan of System Mechanic and found it to be pretty intuitive to use.
The latest version 12.7 plays nice with PCs running Windows XP through to Windows 8.1. System Mechanic can also be installed on any number of PCs - provided they're not business machines.
With most homes now running several PCs this makes a tonne of sense.
Its interface is also pretty straightforward. There are system tools in a left-hand pane, each with sub options on the right-hand side of the screen.
A widget can also be set up to give an at-a-glance overview of your PC's health and security status.
Central to System Mechanic is the analyse function. Using this involves clicking the "Analyse Now" button. Doing this gives you two options - quick analysis or deep analysis.
A quick scan takes 1-2 minutes, and looks for common PC issues. A deep scan takes 5-6 minutes and is more thorough.
Once the analysis is complete, System Mechanic really begins to shine. Instead of serving up cryptic system problem messages, System Mechanic explains them in non-techie, plain English.
Post-system analysis, there's also a handy "Repair All" button that just fixes all problems, usually with a single click. This makes System Mechanic a tool suitable for the non-technical, demystifying PC maintenance.
An easy to understand interface makes a lot of sense when you also consider that there's 50 system repair utilities.
These include a NetBooster which tweaks default network settings to speed online access up. Another common malady of Windows PCs is the registry which can get clugged over time. The Total Registry Revitaliser utility repaired registry issues with a single mouse click.
There's also a defragmenter utility that ensures data is logically laid out on a system drive. System Mechanic takes this a step further with AcceleWrite which provides real time file optimisation to improve file read/write speeds.
Another tool I use a lot is the PC Cleanup utility which cleans up junk files to de-clutter your PC, freeing up scarce storage space.
The EnergyBooster tool is also pretty nifty. It works by disabling services and other background tasks consuming CPU cycles to provide added pep to a PC's performance.
There's also a bunch of automated real time utilities.
The Memory Mechanic tool will reclaim wasted RAM in the background in real time. ActiveCare is a set-and-forget tool that sees System Mechanic using its utilities to maintain your PC with minimal user involvement.
ActiveCare is ideal for those who break out in hives at the thought of tinkering with System Mechanic's utilities. ActiveCare maintenance occurs when your computer is idle and runs in the background.
For those who get more than a little anxious about delving under their PC's hood there's also undo options so they can back out of tweaks should the need arise.
Verdict
System Mechanic not only offers a sizeable number of PC tuning utilities, but it is also accessible to non-techies. There aren't a lot of system maintenance tools I'd put in my parents hands to repair their PC, but System Mechanic is definitely one of them. Screaming and yelling at a sluggish PC need never happen again.