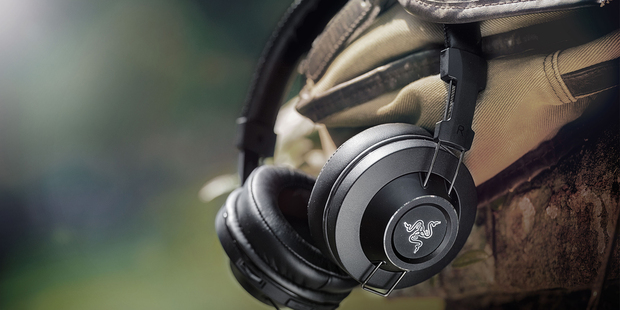 Mention Razer and most red-blooded gamers think mice or keyboards. That's about to change, as Razer have launched a bunch of headphones geared towards music listeners as well as gamers.
As the guy that usually gets Pwned in Counterstrike by a 12-year-old with fast twitch reflexes, it is pretty safe to say I am a seriously crap gamer. I am however pretty good at listening to music (unless I start singing - then things go downhill really fast).
My relief was palpable when I found out I wouldn't be cannon fodder to a bunch of potty mouthed kids. Testing would instead see me laxing out and taking in some music.
In Use
With just shy of 20 hours playback (via Bluetooth 4.0), Razer talk up "CD-quality audio" with their Adaro wireless cans. It's a bold claim, but it turns out that Razer really weren't kidding. The Adaro cans did nice things to my ears. I usually have low expectations when it comes to Bluetooth audio, but these headphones delivered.
Audio was crisp and detailed with plenty of mids plus warm rounded (yet controlled) bass. The sound stage was also well projected and I came away fairly impressed.

It turns out that this is thanks to the use AptX technology. For those with more of a techie bent this is a form of audio encoding using time domain ADPCM principles but not the psychoacoustic auditory masking techniques used with lossy compression schemes such as MP3.
Design
In use the Adaro cans are also pretty straightforward to use. Charged using a bundled Micro USB cable, they're also paired by pressing and holding the power button.
Razer have also added in a bunch of voice cues. Powering-up the Adaro headphones gives a cheery "hello". You also get a reproachful "goodbye" when powering down and an informative "device connected" once paired up with a Bluetooth device.
Comfort-wise the Adaros were light. Their adjustable band also meant that they fitted around my noggin without leaving it feeling as if it were in a vice. After several hours of use, I almost forgot I was wearing them.
Verdict
Taking on the likes of Beats or Skullcandy is a gutsy move that could see Razer broadening their customer base beyond PC gamers. This said, competition is likely to be intense. Priced at a walle-bruising $229, It's a good job that the Adaro cans deliver rock solid audio.
Tech specs
RRP $229
Bluetooth® v4.0 with aptX Technology
Drivers: 40mm Neodymium Magnets
Frequency Response: 20Hz - 20kHz
Impedance: 32
Sensitivity: 91dB ± 3dB
Max Input: 50mW
Operating distance: 10m
Playtime: Up to 20hrs
Standby Time: Up to 300hrs
Charging time: 2.5hrs
Charging cable: 0.8m Micro-USB to USB charging cable
Approximate Weight: 197g