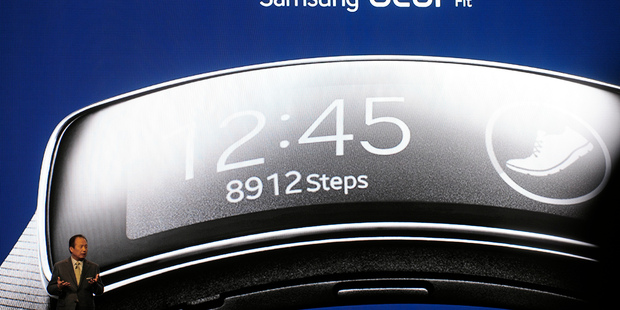 Who'd have thought that geekery and sports - two things which have long been like oil and water - would ever mix?
Now it seems like the impossible is happening as tech firms such as Samsung bet big on fitness tracking technologies, making it a key feature of their Galaxy S5 smartphone and the Galaxy Gear Fit smartwatch.
Look and Feel
While the original Galaxy Gear didn't get rave reviews owing to limited battery life and it sheer bulk, the Galaxy Gear Fit ticks remedies these issues, ticking a lot of boxes along the way.
For a start it's far less bulkier than the Galaxy Gear. It also has simpler functionality, tracking anything exercise related plus doing the usual smartwatch duties.
Perhaps the most noticeable thing with the Galaxy Gear Fit out of the box is its touch sensitive curved AMOLED screen. It not only matches the curve of a typical wrist, but this also helps minimise its bulk. Not only is the 1.8" screen vivid and bright, but the Fit itself also feels good to wear thanks to a well thought out strap and clasp design.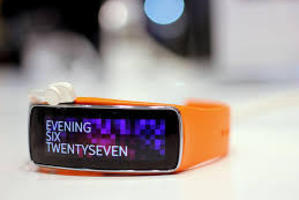 In Use
A button on the side of the fit acts as a power on/off allowing you to activate its display. According to Samsung marketing blurb, its Battery life is a respectable 3-4 days. This can vary, depending on how many notifications you get and how often the screen is used. Another Factor figuring in the Fit's battery life is the use of the more energy efficient Tiezen operating system.
On the functionality front, the Fit has plenty of bells and whistles. Not only can you control music tracks on a Galaxy phone, you can also accept or reject calls (I found this via by digging around the options in the Gear Fit manager app). Nicer still I could also do all this in the shower as the fit is IP67 rated which means it can handle getting wet.
As with other smartwatches, the Fit displays email, SMS message headers and other notifications. One feature that impressed was the ability to swap out the default wallpaper for photos snapped on my smartphone. These needed to be cropped so they'd work with the Fit's odd 432 x 128 screen resolution.
As its name suggests, it'll also track fitness levels using a heart rate sensor and accelerometers. My daily exercise regime typically consists of the ripping open of potato chip bags and some mild weight lifting as I move a pint towards my mouth. This said, I found myself using the fits stats to push myself to walk that little bit further. The heart rate monitor function also motivated me to up the pace when exercising and to better deal with stress.

Verdict
So did it work? With only a short time to test it, I can say that I found its fitness functions useful as a motivator, elevating me from slob to semi-sloth status. Left with the fit a bit longer, who knows what'd be possible?
Samsung say that the Fit will be compatible with many Galaxy Phones, which highlights about the only real limitation of the Fit - it's a Samsung only show.
This is a real shame as it is s smoking bit of gadgetry that could've been a fantastic strategic beach-head for Samsung to gain traction with non-Samsung smartphone owners.
None the less, the fit is a sexy wearable that does exactly what it says on the box and can be had for the reasonable sticker price of $299.