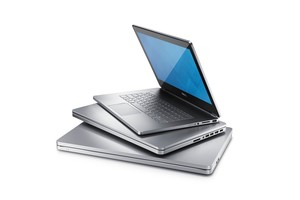 After eyeballing one of these beauties at the recent Dell World event, I was itching to get my hands on a Dell Inspiron 7000 notebook.
They come in both 14" and 15" versions. Looking like a million bucks they're built like a brick you-know-what-house.
Look and Feel
Unboxing the Inspiron 7000 it is hard not to be wowed by its look and feel. Thanks to an alloy chassis and shiny beveled edges, the Inspiron looks like an upmarket Macbook Pro with added bling.
In use the 7000 proved pretty solid. Cracking open its lid resulted in little flexing. Applying gentle pressure to a corner of its display also resulted in minimal warping.
Its 15" display is also touchy-feely, supporting 10-point multi-touch inputs. Its screen was glossy and reflective, but its 300-nit brightness levels helped counter this.
In use, its screen offered up good colour reproduction and contrast levels. This combined with decent viewing angles and brightness levels to make for a pretty decent display.
The 7000's gorgeous alloy body might feel like a tank, but it isn't light. At 2.6kg, it's not something I'd carry over large distances without a month pass to a good chiropractor. This is more than a little frustrating as the 7000 is such a good looking piece of gear, you'll want to take it out and show it off.
Adding to the 7000's good looks are its beveled edges which give the it some serious bling. These are present on 7000's base, the inside of its keyboard and trackpad.
It also sports a roomy palm rest and a decent-sized trackpad. The trackpad proved pretty usable even though the 7000's touch screen did most of the heavy lifting.
Its full-sized backlit keyboard was also comfy for extended qwerty bashing sessions. Although the 7000 I reviewed lacked an optical drive, it wasn't short of other connectivity options. Starting with 4 USB 3.0 ports, there's also a headphone/mic port, card reader, HDMI and a Gigabit Ethernet LAN socket. I wish more notebook makers would include these, as they're a life saver in hotels with no wireless.
Bells & Whistles
Aside from its bling laden exterior, there's plenty going on under the hood. Packing a Haswell Intel Core i5-4200U, the 7000 seemed to run on the smell of an oily rag. There's also up to 16GB of RAM, a roomy 500GB hard drive and a Nvidia GT 750M GPU for light gaming.
Windows 8 64-bit its OS of choice. Dell have also kept bundled shovelware to a minimum. On the review unit there was McAfee anti-virus, Dell Backup and Recovery. The rest appeared to be plain vanilla Windows 8 apps, which isn't a bad thing.
In use I wrung 6 hours 40 minutes of battery life with typical use, which isn't too shabby at all considering its spec.
Verdict
The Inspiron 7000 is at the premium end of Dell's product line-up and feels like a definite step up from typical notebook fare.
The 7000 earned some serious brownie points thanks to its excellent build quality and slick design. A decent spec also meant it delivered solid usability which when combined with good battery life means there's a lot to like.
Tech Spec
RRP $1,498.99
CPU:Core i7-4500U processor (4M Cache, up to 3.0 GHz)
OS: Windows 8.1 Pro (64Bit) English
Memory: 16GB Dual Channel DDR3L 1600MHz (8GBx2)
HDD: 1TB 5400 rpm SATA Hybrid Hard Drive with 8GB Cache
GPU: NVIDIA GT 750M 2GB DDR5
Display: 15.6" LED Backlit Touch Display (1920 x 1080)
Wireless: 802.11B/G/N, Bluetooth 4.0
Battery: 4-Cell Battery
Camera: 1MP Widescreen HD Webcam/noise-canceling dual digital array microphones
Ports: 4x USB 3.0, 1x RJ45 Ethernet, 1x HDMI v1.4a, headphone/microphone jack, Multi-media Card Reader
Dimensions: 379.4mm (W) x 20.5mm (H) x 254.8mm (D)
Weight: 2.6 kg