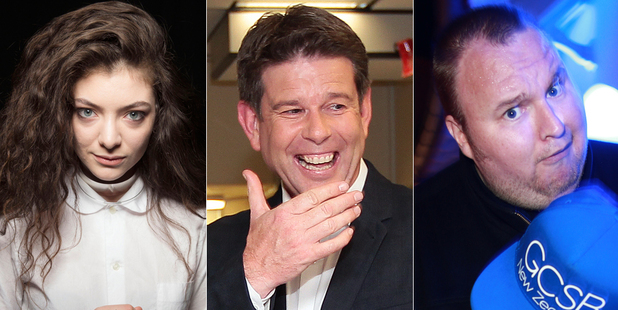 Twitter has launched a new tool to find anyone's first tweet. Here's how celebrities and politicians opened their Twitter game.
John Key
Prime Minister John Key's first tweet in 2009 focused on New Zealand's economic relationship with China. He's still tweeting about it.
Via Website: Speech: New Zealand and China: Our shared economic future http://tinyurl.com/cv2pfo

— John Key (@johnkeypm) April 17, 2009
Lorde
Before she became a global superstar, Lorde sent her first tweet in November, 2012.
She voiced concern over the length of her fingernails and their ability to be a part of Twitter.
She now has 1.27 million followers.
i think my fingernails are too short to be a member of the twittersphere

— Lorde (@lordemusic) November 22, 2012
John Campbell
TV3 presenter John Campbell was a budding student of a fellow reporter when he birthed his first tweet in 2009. He's gone on to live-tweet camera turns, share passionate rugby commentary and cover the world's biggest news events.
Under the kindly tutelage of Natasha Utting, @NatashaUtting, I am having my first tweet. What a splendid woman to share my first with. Sigh

— John Campbell (@JohnJCampbell) March 22, 2009
Daniel Carter
All Black Daniel Carter "finally" sent his first tweet in August 2012 and was #straightinto the #use of #hashtagging in his #tweets.
Hey finally on @twitter #officialfirsttweet

— Dan Carter (@DanCarter) August 27, 2012
Kim Dotcom
Internet mogul Kim Dotcom first gave twitter a glimpse into his "crazy life" and self-promotion in June, 2012.
This is Kim Dotcom. Follow me for direct updates about Mega, my upcoming album and personal website and what's going on in my crazy life :-)

— Kim Dotcom (@KimDotcom) June 18, 2012
Barack Obama
An early taker to Twitter, the junior senator from Illinois used his first tweet to try to collect signatures against the Iraq war. Four years later, as president, he ordered the last US troops out of Iraq.
Thinking we're only one signature away from ending the war in Iraq. Learn more at http://www.barackobama.com

— Barack Obama (@BarackObama) April 29, 2007
David Cameron
The British prime minister opened a new Twitter account in 2012 with a coy reference to his to 2009 claim that "too many twits make a twat".
I'm starting Conference with this new Twitter feed about my role as Conservative Leader. I promise there won't be "too many tweets..."

— David Cameron (@David_Cameron) October 6, 2012
Katy Perry
Katy Perry managed to include news about her tour, nasal passages and Twitter account all in her first tweet. She's now the most-followed person on the planet.
Just got into Berlin... feeling better thank you, have my vicks inhaler by my bedside... and P.S. I TWITTTTER! GAH. Such a follower!

— Katy Perry (@katyperry) February 21, 2009
Tiger Woods
Tiger Woods didn't really get Twitter.
Welcome to my new Twitter page at: www.twitter.com/TigerWoods

— Tiger Woods (@TigerWoods) June 26, 2009
Stephen Fry
This is probably the only maiden tweet to include "whilst".
Hello Twitterers. I'm About to fly to Africa for a new project and will be tweeting whilst I'm filming.

— Stephen Fry (@stephenfry) October 9, 2008
Justin Bieber
This somehow got retweeted 146,000 times. It's also a Myspace reference.
Check out my single "ONE TIME" on my myspace and spread the word for me. Thanks www.myspace.com/justinbieber

— Justin Bieber (@justinbieber) May 12, 2009
John McCain
John McCain's first tweet came three days after Barack Obama was inaugurated president. And it was kind of sad.
I am working in my office on Capitol Hill today.

— John McCain (@SenJohnMcCain) January 23, 2009
Sarah Palin
The former Alaska governor waited a year after her 2008 defeat for this tweet promoting her book, Going Rogue.
Michigan-thx 4 Going Rogue! Perfect tour kickoff w/Kid Rock tune praising Northern MI humming in backgrnd @ Barnes/Noble. Above expectations

— Sarah Palin (@SarahPalinUSA) November 19, 2009
Wayne Rooney
The striker used his first tweet to offer Rio Ferdinand a lift.
Hi rio do u want picking up in the morning pal

— Wayne Rooney (@WayneRooney) April 23, 2011
The Pope
The Pope joined Twitter a year ago asking Catholics to pray for him.


Dear friends, I thank you from my heart and I ask you to continue to pray for me. Pope Francis.

— Pope Francis (@Pontifex) March 17, 2013
He repeated that request this month on his first anniversary in the Vatican.
Ricky Gervais
The funnyman started tweeting ahead of hosting the Golden Globes in 2010.
Just seeing how this works. I'm hosting the Golden Globes on January 17th - they want me to do a running commentary on Twitter...

— Ricky Gervais (@rickygervais) December 14, 2009
He went on to offend most of Hollywood.
- Additional reporting by nzherald.co.nz