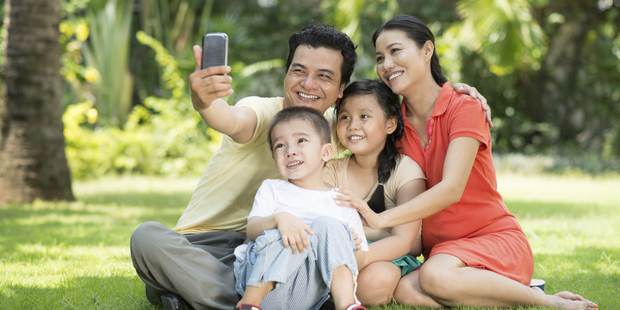 Family memories are being lost down the toilet, pushed over the table, or washed away with a spilt drink, as thousands of Kiwis fail to back up their mobile devices, an insurance company says.
Around 25 claims a week involve lost digital data, AA Insurance said today, with 60 per cent of those relating to mobile phones being damaged, stolen or misplaced. The remainder are mostly related to damaged hard-drives.
"One of the things we have to bear in mind is that over the last 15 to 20 years or so, the way we keep digital data and the way we take photos has changed radically," said Suzanne Wolton, head of customer relations at AA Insurance.
"A few years ago you would have just got your cameras out for holidays and birthdays, taken some photographs and then put your camera away, but now with multi-functional devices you're carrying everything with you and very few people are taking enough steps to protect that data or back it up.
"Where you used to have a photo album and negatives that wouldn't get damaged when they were dropped and generally wouldn't get stolen, now people are losing [photographs] because their mobile phones are more vulnerable."
The advice to people was to back up their devices to a cloud storage service or another device, because "you can't insure your memories", she said.
"People really feel the loss when their photos and videos disappear, they're the first things that people want to save, but it's the kind of loss which is just not insurable."
While many customers understood that the insurance company could only replace their broken device, they are "very upset" because they'd lost something they could never replace, she said.
"We had a customer who was preparing a wedding photo album for the wedding of a family member when the laptop was knocked off a bench onto concrete, and the photos and data couldn't be retrieved. So we can replace the laptop, but we don't like to see our customers have all the heartache and distress when they lose something irreplaceable like that."
However, she said there was "a lot" people could do to ensure their photographs, videos and other personally significant data does not get lost.
These included:
* Back up your data regularly, and keep a copy offsite. Also remember to run anti-virus software.
* The most common damage to phones and laptops is through impact or liquid damage - so don't leave them where they could be knocked or dropped, keep drinks well away, and be careful if you take them into the bathroom.
* If you do damage your phone or laptop, and you can't retrieve the data yourself, take it to a repairer as soon as possible, especially if it has received liquid damage that can quickly cause corrosion.
* Never leave your phone exposed to heat, or unattended, such as in an open handbag, on a restaurant table, or on the console of your car.
* Let your service provider know immediately if your phone goes missing, and request it is locked or blacklisted to prevent someone else using it.
* Download a tracking app for your smart phone such as Apple's Find My iPhone or Android Lost.
* Record your phone's unique 15-digit international mobile equipment identity (IMEI) number so if your phone goes missing you can immediately report it to the police and provide the number for identification.