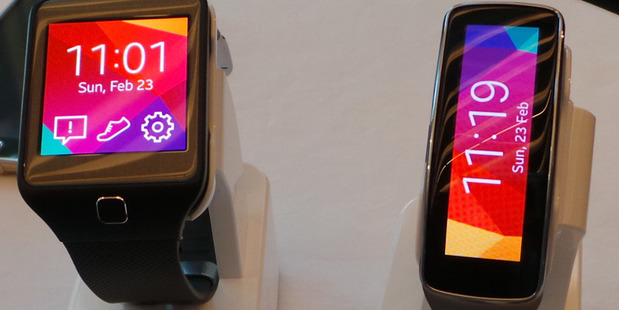 Earlier this week, Samsung launched two new smartwatches, the Gear 2 and the Gear 2 Neo, plus the Gear Fit smartband. All three wearables run Samsung's Tizen operating system instead of Android.
RIP Android?
Many speculated that the move to Tizen signaled a parting between Samsung and Google. Many also missed the point that Tizen makes several boatloads of sense on a smartwatch OS rather than on a smartphone.
Tizen's HTML5-centric nature is likely to be less of an issue on smartwatches which tend to use less demanding and simpler apps. Tizen is also leaner with memory consumption and battery utilisation. Which translates into more efficient smartwatch designs. This should in turn equate to lower manufacturing costs.
Improving battery life also solves a big headache for Samsung. The Gear 2 and Neo will last 2-3 days between charges, which is a significant improvement over the single day with the Galaxy Gear.
Under the Hood
Both the Gear 2 and Neo use the same dual-core 1GHz CPU, sporting the same 1.63" Super AMOLED 320x320 screen.
Both also have 512MB of RAM plus 4GB of storage baked in. Where the two watches differ is in the camera. The Gear 2 has a 2-megapixel camera which has moved from the strap to the watch bezel, reducing bulk. The Gear 2 Neo doesn't have a camera.
Both are also dust and water resistant and have a heart-rate sensor and a pedometer functionality built in. Another big difference between the two new watches is weight - The Gear 2 weighs in at 68g and the Neo at 55g. Both are lighter than the original Galaxy Gears 73.8g.
Functionality
Despite a new OS, both the Gear 2 and Neo are similar to the original Gear. They're designed to work with a Galaxy smartphone and will tell the time and notify you when messages arrive on your phone.
You can also have conversations using their built-in speaker and mic, and take photos via its 2-megapixel camera. The Gear 2/Neo are also be customisable and there's more watch faces to choose from, compared to the current Galaxy Gear.
Gear Fit
The rumour mill was running hot at CES with speculation flying about that Samsung was going to launch a smart band. But alas good things take time, and it wasn't until Mobile World Congress that the Gear Fit was finally announced.
If early indications are anything to go by, the Gear Fit is more of a smartwatch/fitness band hybrid. The most noticeable thing with the Gear Fit is its gorgeous curved Super AMOLED touchscreen. The 1.84"- display is rectangular (rather than square), which means it has the odd screen resolution of 432 x 128.
Replacement straps will also be available in assorted colours, and changing straps should be as easy as popping the Gear Fit out of one strap and squeezing it into another.
The Fit is packed with functions that range from basic watch features - such as a stopwatch and timer - through to exercise functions such as a heart-rate measurements.
The Gear Fit pairs up with Galaxy smartphones whose owners can install an app to customise the Gear Fit's wallpaper and clock layout. There's a device locator so the Fit can be found, should it go missing.
Once paired up with a Galaxy, the S-Fitness app can also provide personalised exercise recommendations and coach-like advice. Additionally, the Gear Fit can receive notifications from a Galaxy including incoming calls, SMS messages and appointments.
The Gear 2, Gear Neo and Gear Fit are expected to launch locally in late April.