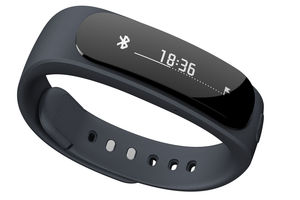 A tonne of wearable tech is being showcased by manufacturers at the Mobile World Congress in Barcelona. Huawei are the latest with their TalkBand, a Bluetooth connected smartwatch, and headset packed into a silicon wrist band.
With a curvy 1.4" OLED screen that shows the time, number of steps (plus calories burned), the TalkBand also shows phone notifications. The TalkBand syncs up via Bluetooth and pairs using NFC. It'll play nice with both Android and iOS smartphones.
Perhaps the most quirky feature of the TalkBand is its headset. While it can display phone notifications (such as messages and missed calls), the fun begins when you get a call. Pressing a button on the band sees the curved screen ejected to act as a Bluetooth headset.
I don't know about you, but the TalkBand concept definitely appeals. Instead of wearing a headset and looking like Ohura from Star Trek all day, you don't have walk around with a wedge of plastic uncomfortably stuck in your ear. Best of all, the headset is also harder to lose.
The TalkBand strap also hides a full-sized USB connector. Which means charging it is as easy as plugging it into a spare USB port. This also handily means you don't have yet another proprietary charging cable to worry about losing either.
Huawei say that the TalkBand should deliver up to 7 hours of talk time once charged and should launch in mid-2014.
Pricing details have yet to be confirmed.