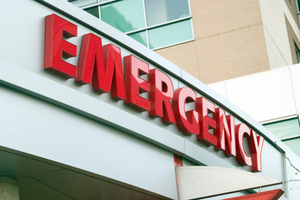 The collapse of the Southern District Health Board's computer system could affect elective surgery and other procedures at Dunedin Hospital.
Medical director of patient services Richard Bunton last night said the DHB's IT system - which contains patient records and gives staff access to email - collapsed about 1am yesterday and he was uncertain when it would be back online.
The collapse, the DHB's largest IT failure which impacted Dunedin and Southland hospitals, coincided with Dunedin Hospital being "relatively busy ... [in] terms of inpatient beds".
The two factors meant some elective surgery and other procedures might not go ahead as planned, he said.
"We will make that call [this] morning, because hopefully the system is up and running tomorrow morning. Who knows?"
Otherwise it was"business as usual", he said.
The DHB would continue to assess the situation if the computer system remained offline.
He stressed the fact people"might not have procedures" was more related to the bed situation than purely because the computer system was down.
The failure came after it was revealed last week that more than 3800 Southland Hospital mammograms were lost as a result of an IT failure.
Asked if the latest failure could result in patient records being lost, he said:"I should hope not, because the back-ups on these things are particularly meticulous."
However, he said there was"anxiety" about patient records and it would not be known what had happened to records until the system was back online.
In the meantime, medical professionals had reverted to a paper-based system, which resulted in things taking "a little longer" than normal.
It also meant "piles of templates and papers" were stacking up, which would need to be retrospectively added to the computer system, creating extra work.
He disputed a claim from Dunedin North MP and Labour associate health spokesman David Clark that the failure had put patient lives at risk and was a result of cost-cutting.
Dr Clark's claims were "scare-mongering and scandalous", he said.
"I am not minimising it. It is slowing things down, but it's not putting people at risk."
Asked if the public could have confidence in the DHB's IT system given the latest failure and the earlier loss of mammograms, he said:"I would think so.
"We do invest a lot in terms of having the appropriate equipment and it being upgraded. We believe it is [up to scratch], but I guess the public can't help but draw their own conclusions."
IT workers "right up to the top folk at IBM" were working round the clock to get the system online.
Mr Bunton did not feel qualified to answer technical questions about why it might have failed. The server was"rebooting" and given its size this could take some time.
Dr Clark released a statement yesterday afternoon saying the collapse put patients' lives at risk and was symptomatic of cost-cutting across the health sector.
"Patient lives are at risk. Clinical leaders have been unable to access lab results, clinical notes, patient contact details, diaries and operating rosters, let alone communication tools like email."
Health Minister Tony Ryall had placed "so much pressure on DHBs that they are in survival mode".