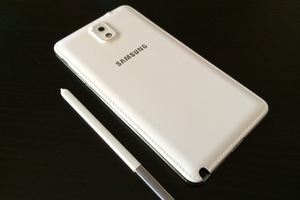 Having been largely responsible for creating the phablet genre, I was keen to get my hands on Samsung's latest XXXL plus-sized phone, the Galaxy Note 3 which as a phablet sports a tonne of on-screen real estate plus several gazillion acres of bells and whistles.
Look and Feel
Having finally taken delivery of both a Note 3 and a Galaxy Gear smart watch, I eagerly unboxed the Note 3, my first impressions are that Sammy's phablet isn't small, and is definitely a gadget for those with larger hands - a real palm-stretcher.
This said, it is wafer thin and Samsung have managed to craft a larger screen than the previous model. What's even more impressive is the fact that they put it in a smaller case with the Note 3.
Measuring in at 151.2 x 79.2 x 8.3 mm, the note 3 is half a millimetre narrower and a millimetre thinner than the Galaxy Note 2. Equally important, the note 3 is also 15g lighter than the Note 2. This weight loss is largely attributable to its build. This is evident with the plastic casing on the Note 3's rear. It's been fashioned with a faux leather feel, (there's even fake stitching), which I'd bet cuts a bit of weight out of the equation.
In the hand, the Note 3 was of a comparable weight-wise to my Galaxy 4. Its alloy waist also helps give it a reassuringly solid feel - unlike Galaxy phones, there was no creaking when it was flexed.
This said the first thing I'd do if I bought one would be to buy a protective case as I suspect its large glass screen mightn't survive an impromptu drop test on concrete. The Note 3 model I tested was black, but it is also available in white and pink.
Bells and Whistles
Being a Galaxy Note, Samsung have integrated a stylus into a small hidey-hole in its base, branding it the S Pen. In use the S Pen proved pretty handy, allowing me to quickly take notes or knock up a sketch. Removing the S Pen from its holster also sees the Note 3 launching the "Air Command menu". Rather than launching fighter wings and bombers from my Note 3, the Air Command menu packed some really nifty options that added greatly to the Note 3's usability.
One Air Command feature that particularly impressed was text recognition. I could scribble out a phone number and have the note dial my scribbled phone number (this is no mean feat - my handwriting bears more than a passing resemblance to the efforts of a constipated spider crawling out of an inkpot). It also worked equally well with addresses using the map app. Equally useful was the ability to capture what's on screen and annotate it, which proved insanely useful when used with the camera.
The other big selling point with the Note 3 was that it can play nice with the Samsung Galaxy Gear smart watch. Having the Note 3 in my laptop bag, I loved being able to read a chunk of text from an SMS or email on my wrist immediately rather than fossicking about to find the Note 3.

In Use
Perhaps the most immediately noticeable feature of the Note 3 out of its box is the gorgeous HD display. At a whopping 5.7", there's plenty of it, and it is incredibly vivid, bright and pin-sharp. If you're a big fan of that slightly oversaturated look from Super AMOLED screens, chances are you'll love the Note 3's screen.
The 13MP sensor on the Note 3's rear camera also does a decent job of snapping photos, even managing to capture usable shots in below average lighting. In good lighting conditions, the results were great. The killer feature however is video which can be shot in 4K resolution. Filmed footage looked pretty impressive on a 1080p capable HDTV - sadly I didn't have a 4K capable telly to hand so couldn't test the footage, but it is still a nice bit of future proofing.
The Note 3 never missed a beat in testing. Stutters, slowdowns and other issues were simply not present. Much of this was attributable to the Note 3's fast Qualcomm Snapdragon 800 chipset using a quad-core 2.3GHz Krait 400 CPU. Apps literally flew open and web pages rendered as fast as the mobile network would allow, while animated effects were also buttery smooth. Sadly there are few apps designed from the ground up to fully take advantage of such beefy CPU specs. When they begin to appear I suspect such well specc'd hardware will doubtlessly come into its own.
Sporting a screen that could do double duty as a helipad, there's a big need for power. Thankfully a big chassis also translates into plenty of battery space and a sizeable 3200mAh battery. After giving the phone several days of use and charges, I found that with light to average use it easily lasted an entire day and then some, while heavier use (several long phone calls and extended surfing and fiddling about with the S Pen during the day) saw the Note 3 demanding a charge in the early evening.
Verdict
Not having hands like snow shovels meant I initially had reservations when unboxing the Note 3. However after a week or so I really came to appreciate its XL size as its benefits easily outweighed any cons. This perhaps best illustrated by the fact that a phablet form factor has all the good bits of a tablet along with the portability of a phone, making it much easier to transport than lugging about both separately.
I was also pretty taken by the sheer wealth of features on offer. Not only was its screen a stunner, but it was also pretty darned fast and packed an excellent camera (especially on the video front). Battery life also impressed as did the S pen (which after a week of use became indispensable part of my digital repertoire rather than a gimmick) thanks to handwriting recognition that could actually decipher my barely readable scribbling. If you find a smartphone too cramped to be practical, check out the Note 3 - chances are that you won't be disappointed.
Tech Specs
RRP $1199
Network: (2) GSM 850/900/1800/1900
(3G) HSDPA 850/900/1900/2100
(4G) 800/850/900/1800/2100/2600/700/1900
WLAN Wi-Fi 802.11 a/b/g/n/ac, dual-band, DLNA, Wi-Fi Direct, Wi-Fi hotspot
Bluetooth v4.0 with A2DP, LE, EDR
NFC Yes
Infrared Yes
SIM Micro-SIM
Dimensions 151.2 x 79.2 x 8.3 mm (5.95 x 3.12 x 0.33)
Weight 168g
Display Super AMOLED (1080 x 1920 pixels, 5.7" 386 ppi)
Card slot microSD (up to 64GB)
Storage 16/32/64GB
RAM 3GB
Camera Rear 13MP, LED flash
Secondary Front, 2 MP
OS Android v4.3
Chipset Qualcomm Snapdragon 800
CPU Quad-core 2.3 GHz Krait 400
Sensors Accelerometer, gyro, proximity, compass, barometer, temperature, humidity, gesture
Battery Li-Ion 3200 mAh battery