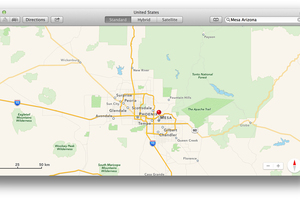 Hey! Apple investors won't wait forever for new Apple categories! That's what analysts are saying. Business analysts, these are. Not tech people.
BTIG analyst Walter Piecyk 'warned' "When we upgraded the stock in March, we assumed Apple could announce a new product that would generate $5 billion of revenue in Fiscal 2014."
This sounds like a hell of an assumption, don't you think? I mean, calling it a hope is one thing, or more accurately 'wishful thinking that will pad my wallet even more'. But I guess that's part of the price of Apple's pecuniary success. We, on the other hand (Apple users) don't want money men bouncing Apple's purse strings making the Inc release goodness-knows-what just to satisfy investors.
Well, I don't. If this attitude and pressure brings a corporate down, they just invest somewhere else - so what do they care? Thank goodness Apple has been resistant so far.

Piecyk seems worried about the time it's taking Apple to get something - say, an iWatch, if such a thing exists - to market.
But imagine the fallout if Apple brought a flawed product out. You've probably heard the stories that Jobs conceived of the iPhone 25 years before it was possible to make it as he envisaged. Apple spend years developing and honing what emerged, and certainly got it right otherwise there wouldn't be all those very similar devices on the market right now.
Here I agree with Ben Lovejoy at the 9 to 5 Mac link: "I should stress that I'm not taking issue here with Piecyk. He is accurately and eloquently describing the mentality of the market; it's that mentality I'm arguing against. It simply strikes me as perverse to invest in a company which has become massively successful by following a clear strategy of making very few products very well, and then to complain that it is not making more and cheaper products."
Exactly.
So what's Apple doing? Something, for sure. Apple has procured enough Sapphire Crystal furnaces to make one-hundred to 200-million 5-inch iPhone displays. Apple and GT Advanced struck a deal in 2013 to open and operate a manufacturing facility in Mesa, Arizona related to 'sapphire crystal components'.
Apple is reportedly pushing hard to make this facility operational by this month (February 2014) and it's thought the building will produce a critical and new sub-component for future Apple devices.
It might be displays that Apple is planning to produce from this tough crystal, rather than components for future Apple Touch ID fingerprint readers and/or caps for camera sensors, as has also been posited. This new thought has emerged since it was discovered that GT Advanced, Apple's partner in the Mesa project, has ordered Intego Sirius Sapphire Display Inspection Tool components.
If that's true, Apple may even be planning on bringing iPhone production back to the US - the new Mac Pro is built in Texas, after all, and that was surprising enough.
But the Mesa plant could also be tooling up displays for a watch, conceivably. Wearable needs durable. And Apple has been assembling and hiring sensor and medical specialists over the last few months, to (possibly - this is all still speculative) work with the already considerable talent inside Apple. There's Jay Blahnik, the world renowned fitness expert who previously worked at Nike on the Fuel Band; sleep research expert Roy JEM Raymann, a scientist who officially left his role at Philips Research just last month; high-profile Yves Saint Laurent CEO Paul Deneve was hired back in July (presumably for 'wearability'); Apple's new Head of Retail, Angela Ahrendts, is expected to start this northern spring - she was hired from her role at Burberry; there's top Nike design director Ben Shaffer also now working for Apple; Ueyn Block, the scientist who was key engineering director at his former employer C8 MediSensors.
Nancy Dougherty has worked with technology-based medical products since 2010 with Proteus Digital Health - she joined Apple as a hardware engineer in late 2013; Doctor Todd Whitehurst joined Apple from Senseonics last summer; Doctor Michael O'Reilly joined Apple mid-2013 after serving as Executive Vice President for Medical Affairs and Chief Medical Officer for nearly five years at Masimo; and Ravi Narasimhan, an expert in biosensors and wireless communications, joined Apple's research and development team at the end of 2013.
You have to believe that if Apple's working on something, it's going to be very good. And very good is what Apple fans expect.
Apple co-founder Steve Wozniak sees the sense of something intimate-ish. He says 'to innovate, get personal'.
So yes, I watch with interest. (Besides, I need a new watch. My Swatch was crap.)