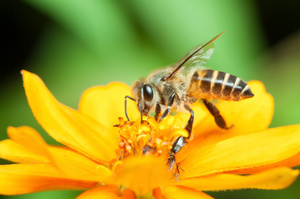 BUZZ FOR BIZ: A bee with a backpack! Bee populations are in decline around the world and that's bad news for pollinating plants of all kinds, but especially our food supplies. Australian researchers are attaching 2.5mm x 2.5mm chips to 5,000 honey bees around Hobart. As the bees approach known food sources or hives recorders capture the data from the chips and build up a picture of bee behaviour and the way the insects move through the landscape. The data will be used to help farmers and others increase productivity. That's a lot of buzz for business.
WHEEL ON BOARD: A skateboard has so many wheels, and you have to push it to get it going. Future Motion's Onewheel is an electric vehicle that puts a single self-balancing large wheel in the middle of a board and drives it with a direct drive electric hub motor. To ride the board you put one foot on each side of the wheel: one in front and one behind, and lean to steer it.
The LiFePO4 battery has a range of 6 to 9 Km and carries you at up to 20 Kph. The fast charger takes 20 minutes for a full charge. The whole board weighs 11 Kg. That's a bit of weight to carry if the battery dies or once you reach your destination.
JUMPING JACKS: Plug your phone in to charge over night and once it's fully charged the rest of the time is just wasted. The JUMP charging cable from Native Union puts that wasted time to good use. The cable includes a small lithium polymer battery pack. Once the device detects that the phone is fully charged it starts charging itself. When you grab your phone in the morning, grab the cable too. If you run out of juice the small battery pack in the charging cable can charge the phone to about one third. That's a very clever idea.
OFF-ROAD NAVIGATION: The CycleNav Smart Bike Navigator from Schwinn connects with an app on your Bluetooth smartphone, attaches to the handlebars and helps you navigate within the USA with flashing lights and spoken directions. An Instant Replay button lets you hear any directions you just missed. The device includes a headlight and a rechargeable battery that lasts 10 hours while the phone app handles stats for the ride. Directions specific for cyclists rather than just driving directions meant for cars is a handy feature.
CHANGE IN CHARGE: It's possible to charge devices wirelessly, but the distances involved have to be very small. Researchers at Duke University can extend that range with a superlens using low-frequency magnetic fields. The lens is an array of hollow blocks etched with spirals of copper wire. The coils transmit and confine magnetic fields into a narrow cone of focused high intensity power. More development could perhaps mean that in future devices can be wirelessly charged wherever they are in a suitably equipped room. That could work wonders for electric vehicles too.
Miraz Jordan, knowit.co.nz