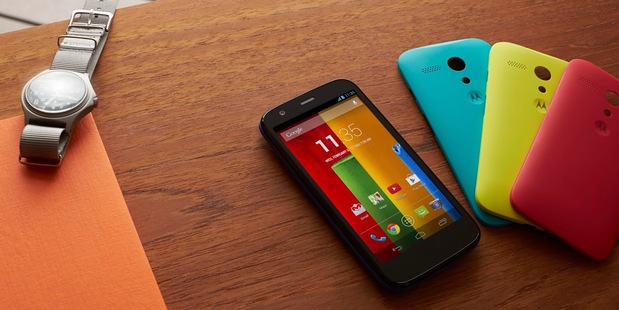 The words "Affordable Android phone" have long been code for what as more often than not a mediocre underspecc'd budget device featuring a low-res screen and a flimsy plastic build. Google and Motorola are thankfully changing this for the better, starting with the Moto G, which is an affordable Android phone that really delivers the goods when it comes to bang per buck value.
Perhaps the biggest selling point of the Moto G in my books (aside from its price) is that it is stripped of bloatware and custom interface fluff, making use of a stock version of Android.
So why is this such a big deal? Put simply, the lack of pre-installed bloatware, gimmicky (and largely useless) interface features mightn't sound like a big deal, but in use it translates into a highly responsive handset that's also intuitive to use. There's only a few additional software apps baked in such as Moto Assist and Migrate, both of which fulfill genuinely useful tasks that adds to the overall utility of the Moto G.
Look & Feel
Looks-wise the Moto G isn't terribly exciting, and out of the box, it is a black slab of plastic and glass.
Motorola must have been a little conscious of this as they've also opted for optional removable rear shells, with 19 different colours available to add a little zing. I just wish they'd included at least one in the box.
It might have a plastic chassis, but Motorola appear to have put a fair bit of effort into the Moto G's build. This was pretty evident when holding it, as its curved back not only felt great in the hand (even though it wasn't terribly thin or light), it also felt reassuringly solid with minimal flex or creaking.
Its 4.5" display seemed a tad small, especially compared to the current crop of large screen monster phones, but its petite size did confer one great benefit - it was dead easy for one-handed use. With a resolution of 720 x 1280 pixels, and a pixel density of 326 ppi, its display was also eye-pleasingly crisp.
From a design perspective the Moto G mightn't have flashy gee-wiz looks of an HTC One or the Nexus 5, but it is still a great looking piece of hardware that looks more upmarket than its very reasonable $299 sticker price.
Under the Hood
Popping off the G's swappable rear cover reveals a non-removable battery, which seems kind of strange given the rear cover is detachable. Also missing are a few other features such as a microSD slot, NFC, and 4G.
Most of these features all form part of the delicate balancing act Motorola had to achieve in order for the Moto G's spec to remain affordable. With the exception of the Micro SD slot, these absent features are not really deal breakers.
Should the lack of SD expansion be a show stopper, Motorola have you covered, thanks to a deal they've inked with their parent company, Google, which gives Moto G owners an additional 50GB of free storage on Google Drive for 2 years.
One feature that's likely to also prove incredibly handy is the Moto G's dual SIM capabilities. This is ideal when you have a calling circle for your family with one carrier while work insists that you use another, or if you are travelling. Keeping your NZ SIM in one slot. You can easily receive text messages, but can switch to a local SIM for sending texts, saving yourself a bundle in the process.
The Moto G also packs a Qualcomm Snapdragon400 chipset and a Quad-core 1.2GHz Cortex-A7 processor which when combined with the clean user interface, delivers a buttery smooth multitasking experience and all-day battery life. On the operating systems front, the Moto G is powered by Android 4.3 (Jellybean) and being the phone subsidiary of Google means that Motorola are also guaranteeing an upgrade to Android 4.4 (KitKat) for the beginning of 2014. All told this isn't too shabby considering the Moto G's very reasonable $299 price tag.
Verdict
Although some may complain about the Moto G not having expandable memory, for sheer bang per buck value, Motorola have managed to craft a pretty stunning piece of hardware.
Thanks to a rock solid build and very reasonable specs/price, the Moto G is proof that a high-quality phone can be made without breaking the bank. Along with the Nexus 5, the Moto G is the hot handset that other manufacturers will need to look out for when building budget handsets.
Tech Specs
RRP: $299 (Prices will vary by carrier and calling plan)
Network: 2G GSM 850/900/1800/1900Mhz
3G HSDPA 850/900/1900/2100Mhz
SIM: Micro-SIM
Dimensions: 129.9 x 65.9 x 11.6 mm
Weight: 143 g
Display: 4.5" IPS LCD (720 x 1280 pixels, 326 ppi)
Storage: 8/16 GB
RAM: 1 GB
WLAN: 802.11 b/g/n, Wi-Fi hotspot
Bluetooth: Yes, v4.0 with A2DP, LE
USB: Yes, micro-USB v2.0, USB Host
CAMERA: (Rear) 5 MP, 2592?1944 pixels, autofocus, LED flash, 720p@30fps Video, HDR
(Front) 1.3 MP
OS: Android OS, v4.3 (Jelly Bean)
Chipset: Qualcomm Snapdragon 400
CPU: Quad-core 1.2 GHz Cortex-A7
GPU: Adreno 305
Sensors: Accelerometer, proximity, compass
GPS: includes A-GPS/GLONASS
BATTERY: Non-removable Li-Ion 2070 mAh battery