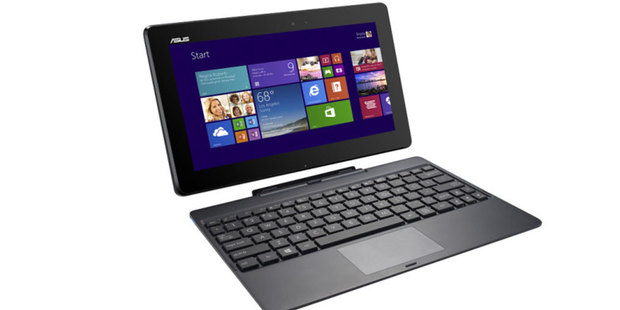 Remember the buzz surrounding netbooks which sported what was then a crazy sub $1,000 price tag?
Back then Asus was one of the players leading the netbook charge and now they're hoping that lightning can strike twice as they shift their gaze away from slinky ultra-books to focus on the ultra-affordable $699 Windows 8 powered T100 convertible tablet.
Achieving that price point with the T100's functionality inevitably raises the question, what corners were cut? Are there any show-stoppers?
Thankfully ASUS also happens to be pretty good at making PCs. While the T100 feels cheaper than other premium Asus notebooks/ultrabooks thanks to its plasticy build, it delivered a tablet keyboard combo at what can only be described as a wallet defying price.
In Use
The T100's petite form factor also means that its keyboard resembles those found on netbooks of old too. It's a small piece of qwerty real-estate, and for those with bear claw hands, it'll most likely induce feelings of claustrophobia.
In use however I was pleased to note that after a brief period of adjustment, it was surprisingly usable. As with their netbooks, Asus have smartly chosen to keep the Enter, Shift and Backspace keys full-sized, which made a considerable difference.
The T100 mightn't be a computer I'd like to write a novel on, but I'd be more than happy using it as my primary machine for surfing the web, checking email and other online tasks. Although I found its touchpad small, the addition of a touch screen made a big difference in the usability stakes.
Having now reviewed more than a few tablet convertible devices, one fault I was pleased to note was that the T100 doesn't appear to suffer from a top-heavy design. Unlike a lot of other convertibles, when the T100's tablet is docked with the keyboard and on my lap, I didn't have to worry about it toppling over backwards screen-first.
Speaking of screens, the T100's 1,366 x 768 IPS display offered decent viewing angles and was sufficiently bright to be easily readable under most lighting conditions. In terms of its heft, the T100 pretty much felt like a netbook when docked, weighing in at just over a kilo. As a tablet it came in at just over 500g and was dead easy to cart around.
Under the Hood
Being a convertible not only gives the best of both a notebook and a tablet, but also means that there is an ample selection of connectivity options. For a start there's a USB 3.0 on the dock and on the tablet there's both micro-USB and micro-HDMI ports plus a headphone jack and microSD slot.
Another plus for the T100 was the lack of 3rd party crapware installed. Aside from Microsoft's OneNote app, and the generous addition of Microsoft Office, it was otherwise clean and uncluttered. Running Windows 8.1 also meant there was a start button of sorts, even if it only bought up the metro interface.
The T100 uses an Intel Bay Trail CPU, which in non geek speak is a quad-core Atom processor clocking in at 1.33GHz. With a 2GB dollop of RAM, the T100 worked fine with no discernible performance glitches.
Another big benefit of using Intel's Bay Trail silicon is battery life. According to the spec sheet, the T100 is rated to deliver a theoretical 11 hours of battery life with normal use, and 10 days on standby. In practice I found the T100 actually bettered these figures, getting just shy of 12 hours video playback at full brightness with everything switched on (which will be a real boon for long haul flyers).
Verdict
My initial thoughts were that the T100's biggest selling point would be its $699 sticker price. However after several weeks use I came away pretty impressed by its sheer bang for buck performance, its battery life and the sheer versatility of its keyboard dock. The fact that it's also an Intel powered Windows 8.1 device that'll play nice with full Windows programs - when other similarly priced or even more costly convertibles will only run apps from the Windows Store - also wins the T100 brownie points.
Tech Specs
RRP: $699
CPU: Quad core Intel Atom BayTrail processor
GPU: Intel HD Graphics
OS: Window 8 with MS Office Home & Student 2013
Memory: 2GB
Storage: 64G eMMC with ASUS WebStorage
Display: 10.1" HD (1366*768) IPS with multi-touch
Camera: 1.2Mp camera
Battery: 31Whr (11 hrs)
Dimensions: Tablet: 264mm x 171mm x 10mm
Dock: 264mm x 171mm x 13mm
Weight: Tablet: 544g
Dock: 544g