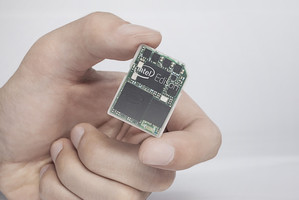 Not content with announcing a slew of wearable tech, Intel also announced a tiny computer. Branded "Edison", Intel's CEO called it "a full Pentium-class PC". Tiny doesn't begin to cover it, Edison is the exact size of the same SD cards you'd sling into a camera or other consumer electronics.
Specs-wise, Edison appears to bat well above its SD sized weight, being powered by Intel's Quark CPU that was announced at the Intel developer forum earlier this year, and is designed for wearable computing.
Edison sports a dual-core system on a chip, runs Linux, and for connectivity and peripherals has both Wi-Fi and Bluetooth modules. On the storage front, Edison has NAND flash memory, although Intel have yet to announce how much memory is actually built in.
Intel also showcased an Edison app store, however there is little information on what apps are available besides Wolfram. Aimed at developers, Intel are hoping that enthusiasts will embrace Edison as a platform for developing wearable tech.
Making double sure that Edison gains a measure of traction, Intel also announced a "Make it Wearable" competition, that will see Intel coughing up to US$1.3 million (NZ$1.5 million) in prizes for developers churning out wearable tech based on Edison/Quark. According to Intel, Edison will be available in mid-2014.