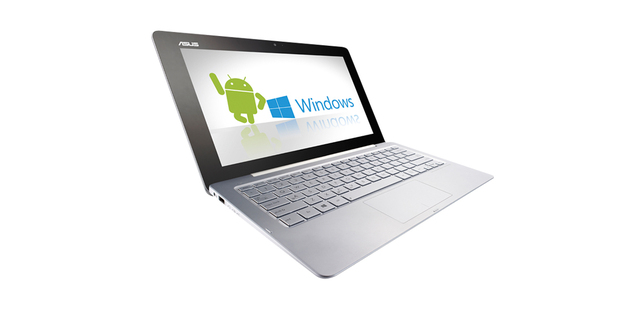 Not content with a sizeable presence in the tablet and notebook markets, Asus went for broke and covered all their bases with the Trio which handily does triple duty as a tablet, notebook and desktop PC, handily running both Windows 8 and Android.
LOOK AND FEEL
Unboxing the Trio revealed a fairly typical looking notebook PC made up of two components: A detachable Android tablet that doubles as a notebook touchscreen, and a notebook base/keyboard that can plug into a monitor to act as a desktop PC running Windows 8.
Both can be operated independently of each other or used together for the full notebook PC experience. The tablet/touchscreen has its own CPU (an Intel Atom) and battery, while the base also packs its own silicon in the form of an Intel Core i5 and battery.
The Trio concept sounds as if it should be horribly confusing, yet in use it was exactly the opposite and it worked a treat.
A dedicated Android/Windows key next to F12 allows you to seamlessly switch between Windows 8 and Android 4.2.2 when the trio is configured as a notebook. The tablet/touchscreen also reverts to Android when disconnected from the keyboard/base.
In a nutshell, the Trio is a neat way to fence-sit if you're undecided on plunking down cash for a Windows 8 notebook or going for an Android tablet, as you can have the best of both.
Using the Trio as a Windows 8 laptop involved having the tablet docked to the base as a touchscreen. In use, it worked pretty well, although the tablet battery and electronics lent a top heavy feel to the setup. Because of this, the Trio felt as if it would topple backwards if I leant forwards when it was on my lap. It was also a little on the heavy side compared to a typical ultrabook, weighing in at 1.68kg, but then how many ultrabooks can do what the Trio can?
Packing an 11.6" screen, the Trio's base was petite and its keyboard felt a tad cramped. This said, it didn't take much getting used to, and its 95x54mm trackpad worked fine - especially when used in combination with the touchscreen.
SPECS
There's plenty of connectivity options on the Trio. Along the edge of its keyboard there's two USB 3.0 ports, a headset/Mic port, and a Micro-HDMI plus mini-VGA port. I'd have liked to have seen an SD card slot on the keyboard but as there's a MicroSD slot on the tablet/screen this wasn't a show-stopper. Network connectivity comes in the form of dual-band 802.11 b/g/n/ac Wi-Fi, as well as Bluetooth. An Ethernet port would've been nice too.
The Trio's base/keyboard is powered by an Intel Core i5 CPU whose two cores clock in at 1.6GHz. The i5 also handles graphics and is complimented with 4GB of RAM, and a 500GB hard drive.
Detaching the Trio's screen sees it transforming into an Android tablet running Android 4.2.2. For media consumption Web browsing, email and the odd angry birds session, it was more than capable.
Weight-wise, the tablet wasn't terribly heavy, but this said, it isn't exactly a featherweight either, weighing in at 706g. A rounded back also meant it was easy to hold in landscape mode.
One slight annoyance I did notice was that when catching some YouTube goodness without headphones, the speakers on the tablets rear left/right edges were able to be blocked by my hands holding the tablet. Rear mounting the speakers might have fixed this.
Speakers aside, the Trio's screen was vivid and bright. Being a touchscreen, it also tended to be fingerprint magnet, but this is nothing that a regular spot of cleaning won't fix.
Perhaps the biggest benefit of the Trio is likely to be for travelling couples.
Normally when travelling I'm in the midst of filing stories and need access to a notebook PC. Unfortunately my wife usually also wants some social media goodness and to check her email, which isn't terribly practical when I'm travelling light with a single PC.
Thankfully, this is precisely where the Trio really shines. The Trio's base can connect to a hotel room TV via a spare HDMI port, Effectively creating a Windows 8 PC Which is ideal for bashing out text and checking email. Meanwhile, the tablet is plenty fine for checking Facebook, Twitter and emails.
Happy wife, happy life and best of all I'm still travelling with what is effectively a single PC. One trap for the uninitiated though is the lack of micro-to-full-sized HDMI adaptor cable. They're not hideously expensive, so I was somewhat disappointed to note that one wasn't bundled with the Trio.
BATTERY LIFE
Another big win with the Trio is battery life as the Trio's base and tablet both have their own batteries, which when separated deliver just shy of 4 hours of life with average use.
Normally I'd be saying that this isn't ideal, but when the tablet and base are docked, the system automatically switches to the tablet battery when the base station battery runs out of juice, effectively translating into just shy of 7 hours of battery life, which isn't too shabby at all.
VERDICT
In a me-too notebook/PC/Tablet marketplace, it is pretty refreshing to see someone crafting a product that really is unique. All too often in tech, the word unique translates into a solution looking for a problem to solve. Thankfully, the Asus Trio is both a genuinely useful and unique piece of gear.

Tech Specs
• RRP: $1,899 (Core i5 CPU), $2,199 Core i7 CPU)
• OS: (PC) Windows 8, (Tablet) Android 4.2.2
• CPU: (PC) Intel Core i5 (Tablet) Intel Atom Z2560 (1.6GHz)
• Graphics: (PC) Intel HD Graphics 4400
• Display: 11.6" 1920 x 1080 IPS 10-point multi-touch
• Memory/storage: (PC) 4GB DDR3 (1600MHz) RAM with 500GB HDD, (Tablet) 2GB DDR2 RAM (1066GHz) 16GB storage
• Cameras: (Rear) 5MP, (Front) 720p
• Connectivity: (PC) 802.11ac (dual-band), Bluetooth 4.0, 2 x USB 3.0, Mini DisplayPort, Micro-HDMI 1.4, 3.5mm headphone/mic, (Tablet) 802.11n (2.4GHz), Bluetooth 3.0, Micro-USB 2.0, 3.5mm headphone/mic, microSD slot
• Battery: (PC) 33Wh lithium polymer, (Tablet) 19Wh lithium polymer
• Size & weight: (PC) 304.9 x 193.8 x 13.4mm, 1kg, (Tablet) 304.9 x 193.8 x 9.7mm, 700g