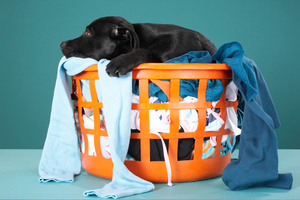 BARK TO START: So your service dog can load your dirty laundry in the washing machine. But now what? You have to turn the machine on for yourself? JTM Service say No: their Woof to Wash washing machine allows the dog to do everything, including turning it on. The washing machine has a special button activated by a dog's paw and a rope to open the door, while the wash cycle starts with a bark. What happens when the dog barks at other times?
NEW SQUEEZE: Researchers at the UCLA have taken to squeezing cells to diagnose cancer with a high degree of accuracy. Conventional tests can involve complicated and time-consuming dyeing or molecular labeling yet still not be very accurate. The squeezing technique runs pleural fluid through microscale fluid conduits. The conduits squeeze cells on the way through and measure their response.
Cancer cells have a different architecture and are softer than healthy cells so they distinguish themselves by deforming differently. The technique is fast and accurate and could increase diagnostic accuracy for the detection of cancer cells in body fluid samples. A quicker diagnosis should please everyone.
WASTED WASTE: Pilus Energy say that sewage is full of potential energy but we're just wasting it. Their microbial fuel cell aims to harness that energy instead with genetically modified bacteria. Bacteria anaerobically metabolise materials in sewage and waste water, producing both hydrogen gas and direct current electricity. The hydrogen can be used locally or compressed and sent elsewhere. Remaining waste water can then go on to the sewage treatment plant. The company say their bacteria are non-pathogenic, avirulent and don't produce CO2. That's a whole new class of worker.
INSPECTOR GADGET: Where roads or railways run through tunnels regular inspections are needed to watch for cracks and other problems. To do those inspections the tunnels must usually be shut down. Robinspect is a robot to do the job. An autonomous vehicle with a robotic arm uses various sensors and lasers to make highly accurate measurements of the inside of the tunnel during a single pass. The robot knows when to stop and examine a crack, joint or discolouration more closely and make detailed measurements. It can also report on features such as missing, loose or discoloured bolts. The robot should mean potential problems are identified and fixed earlier, reducing costs and making tunnels safer and allowing traffic to flow more freely with fewer disruptions. So that's why the tunnels are closed so often.
HOT SPOTS: Carbon nanotubes could be really useful in electronic devices, but since they're only 1 atom thick junctions are impossible to solder together. A team at the University of Illinois have found a useful way to get around that. The ends of the nanotubes heat up when a current passes through them thanks to resistance. If nanotubes are placed in a chamber of gas molecules and then have current passed through, a process called chemical vapor deposition deposits metal at the hotspots, effectively soldering them together. The team say this is a quick, easy and low-cost way to make the connections.
Miraz Jordan, knowit.co.nz