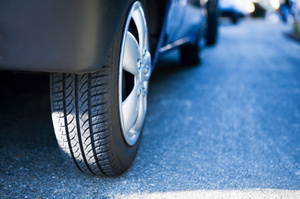 POD ALERT: Imagine a little driverless electric pod whisking you from the central train station to the city centre. Milton Keynes in the UK is about to give it a go with 100 pods running on specifically marked out lanes. The pods will travel along the wide pavements in the city at up to 20 Kph. Big enough to carry 2 passengers and luggage, they'll use sensors to avoid colliding with pedestrians and parked cars. 20 Kph is a pretty good speed along the pavement, special lanes or not.
PLEASE WALK: Sometimes people with Parkinsons will be walking along and suddenly be unable to take another step. That can lead to falls and serious injuries. At the University of Alabama researchers have an idea that could help: A device embedded in a shoe or worn around the ankle could detect when such freezes occur then send a sound wirelessly to an earpiece to prompt the wearer to move on.
They're currently developing the device and have applied for a patent. Walk this way.
LISTEN TO THE PULSE: A regular pair of earbuds could be used to take your pulse. As your arteries pulse your eardrums flex slightly. That movement changes the pressure in the ear canal, which can be measured by using the earbuds as microphones. Use some clever software to measure changes, filtering out ambient noise and allowing for poorly fitting earbuds and the result is a measurement of your pulse. The Kaiteki Institute in Japan is working on this technique and say the dedicated signal processing could be incorporated into a music app on a smartphone. Soon my phone may know everything there is to know about me.
GLOW IN THE DARK: Panasonic's BG-BL03 solar LED lantern's Nickel-metal hydride battery recharges in 6 hours and can recharge a cellphone through a USB connection. A built-in handle can be used as a stand or a hanger. The lamp includes a 3.5-watt output solar panel to power the 5 LEDs. Output can be between 6 and 100 lumens, for between 6 and 90 hours, depending on whether you choose Low, Medium or High settings. The lantern is designed for the more than 1 billion people around the world who don't have electricity, but surely all of us should keep one in the emergency kit.
BOUNCY DRONE: If you're a rescuer sending a precious drone into a collapsed building you'll probably worry about it bumping into unexpected obstacles. The autonomous Gimball drone from the École Polytechnique Fédérale de Lausanne doesn't have any problems at all with such bumps: it just keeps flying, as a bee might after bumping into a window. An elastic cage absorbs the shock of each hit, so the spherical drone inside can stabilise itself after each collision. The Gimball is about 33 cm long and weighs around half a kilo. Autonomous drone racing could be a fun sport.
Miraz Jordan, knowit.co.nz