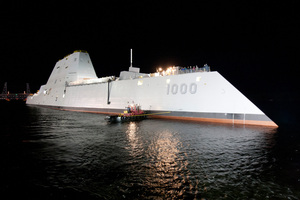 ANGLES OF DECEPTION: It's 186 metres long and 24 metres wide and it can destroy targets from almost 100 Km away: the USS Zumwalt is the US Navy's latest warship. Rounds are powered by rockets and guided by computers, and don't need sailors to load them or remove spent shells. But enemies will have a hard time spotting the ship to fire back: the canopy and the rest of the ship is built on angles that help make it 50 times harder to spot on radar than an ordinary destroyer. On radar it looks like a fishing boat. All actual fishing boats should clear the area.
SMOOTH SAILING: The Jet Capsule is a small boat that perhaps most closely resembles an iron. It's 7 metres long and up to 3.5 metres wide. The living space inside is covered by a cowl that has large windows. At the back is a small platform that gives easy access. The boat can be configured when you buy it for different purposes such as to live aboard or to carry passengers, or even with camouflage, weapons and armour.
Help flatten out those waves.
AT YOUR SERVICE STATION: Car out of petrol? Horizontal rain? The Fuelmatics robot may be able to take care of filling up your car. Pull the car up to the pump, then the robot identifies and opens the fuel cap. Provided your car uses a capless insert the robot then puts a specially designed nozzle into the tank and fills the car. Presumably it also withdraws the nozzle and closes the cap. There's no word on how to initiate this process or handle payment, but the idea is that you don't have to step out of the car. That could be very nice indeed in these spring gales and rain showers.
TAG, THEY'RE IT: TV shows and movies are full of high-speed car chases, and they're fun to watch. In real life though such chases are very dangerous and very costly. The Starchase tag may help. It's a miniature GPS module encased in a tracking projectile that can be fired from a launcher mounted on a police vehicle and targeted by laser. The tag sticks to the target then police cars can drop back while a dispatcher watches the vehicle on a map updated in real-time.
ON THE FOOT FRONT: Each year billions of pairs of shoes are produced. Eventually most end up in the landfill, but recycling would be a better option. Researchers at Loughborough University took on that tough challenge, and have come up with useful end products. The shoes are chopped up and the various materials are then sifted and sorted out, using some ingenious techniques. The end products could be used in insulation, carpet underlay, playgrounds, and even in new shoes. One outcome though was suggestions for how shoe manufacturers could produce shoes that are easier to recycle in the first place.
Miraz Jordan, knowit.co.nz