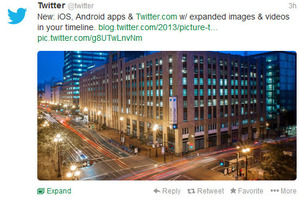 Twitter says its new changes aim to make the social media platform "more visual and engaging", but not all users are impressed.
The changes - rolled out today - allow for previews of images or Vine videos in tweets to appear in people's timelines, where previously they showed as simple links.
"So many of the great moments you share on Twitter are made even better with photos or with videos from Vine. These rich tweets can bring your followers closer to what's happening, and make them feel like they are right there with you," Twitter's Michael Sippey explained on their blog.
"We want to make it easier for everyone to experience those moments on Twitter. That's why starting today, timelines on Twitter will be more visual and more engaging: previews of Twitter photos and videos from Vine will be front and center in Tweets. To see more of the photo or play the video, just tap."
Picture this: More visual Tweets! https://t.co/C00reQvWTG

— Twitter Mobile (@twittermobile) October 29, 2013
The update can be seen on both the Android and iPhone apps, and on Twitter.com.
Response from users has been mixed since the update took effect:
My fave update in a long time. Update your Twitter app to see more photos + videos + faves right in the timeline: https://t.co/kDaXj3G2W7

— BoooOOOoooster (@buster) October 29, 2013
Finally! #Twitter gets serious about images, brings expanded images & video to your timeline: http://t.co/FoBAsusnTn pic.twitter.com/sXeH09Xy1Q

— Curalate (@Curalate) October 29, 2013
Love the new #Twitter feed! Opportunity for brands w/ strong visuals to really standout: https://t.co/zhJKJVdxdT

— Natasha Koifman (@natashankpr) October 29, 2013
Others complained the preview inclusion was distracting:
Here's my 2 cents on the Twitter image previews: Not good for work.

— Kieran (@ItsKieranTime) October 29, 2013
This is so distracting and terrible RT @twittermedia Picture this: More visual Tweets https://t.co/JHFfDfDa09 ...

— Alex Keckeisen (@Alex_Keck) October 29, 2013
What are you doing Twitter?? Stop that. https://t.co/2dbZVUw9Cb

— Lauren Sobon (@LSobon) October 29, 2013
Did I accidentally put @Twitter on the 'suck' setting or is everyone else automatically seeing pictures in their timeline? #NationalCatDay

— John Breech (@johnbreech) October 29, 2013
Seriously @twitter first you add stupid blue lines joining CRAP together, and now pictures always showing. DO you ask your users? #idiotic

— Jono Bloodyhumour (@JonoNewton) October 29, 2013
The update is the second in recent months to divide users.
In August, Twitter rolled out a feature which linked conversations with a thin line (blue, for most users) joining up to three tweets together in chronological order. In order to see the full conversation, users have to tap on the first tweet.
Both recent changes made by Twitter make the user's feed similar in appearance to that of social networking rival Facebook.
Do you wish Twitter looked more like Facebook? Wish granted: https://t.co/9sGeRU876E

— John Simone (@j_simone) October 29, 2013
I'm not a fan of the thin blue line, because as someone who regularly looks at Twitter throughout the day it means the same conversations appear over and over again. While I found the new preview feature initially promising, it soon grated, as the same images now appear repeatedly on my timeline. Like Facebook, you're now likely to have your timeline spammed which whatever image is going viral at the time. Enjoy.
Perhaps Twitter could placate disgruntled users by simply offering an option to turn these features off.