Fresh produce sorting and packaging
Revenue: $82 million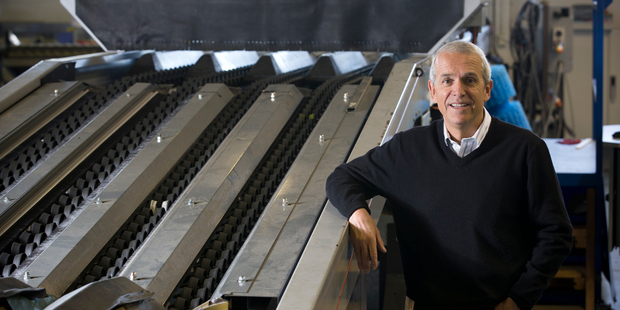 Compac Sorting Equipment is a technology company with roots in one of New Zealand's more traditional industries.
Launched 29 years ago, the business has since risen to 19th place in the TIN100 list, with revenue of $82 million this year.
Growing up on his family's kiwifruit orchard, founder Hamish Kennedy developed a simple machine to help sort the fruit more efficiently. The device worked so well that friends and neighbours asked for their own, thus sparking the idea for Compac Sorting Equipment.
Compac started strongly in Auckland in 1984, with a focus on the kiwifruit industry - booming at the time - and intensive capital investment from Kennedy. However it only just survived when the kiwifruit bubble burst in 1987, a period Kennedy notes as his worst.
From there, Compac expanded into sorting different kinds of fruit and developed systems for sorting based on size, colour and ripeness. Still Auckland-based, the firm's latest, and arguably greatest, invention is a cherry-sorting machine launched this year for Prima Frutta, California's largest cherry grower and marketer, able to sort 50,000 cherries a minute.
Company growth has resulted in about 350 staff globally, with offices in places including China, Australia, South Africa, Europe and Asia. This global spread has been vital in keeping the company profitable over the years, says chief operating officer Ian Fulton.
"The Psa kiwifruit outbreak definitely hurt us but because our business has such a spread over so many countries, it wasn't as crippling as it could have been.
"Generally when one country is down, others are up so we've been okay. Without a doubt being more global has helped."
Fulton notes that Kennedy, having been with the business from the start and for almost 30 years, still plays a relatively hands-on role in its everyday operation. While maintaining the corporate side of things, Kennedy is often found discussing projects with staff and offering solutions, or learning about new products.
This hands-on approach and tight-knit culture has created a long-serving and loyal team supporting Compac, a key factor in the company's success.
Research and development has been a main focus and has been "beefed up over the years", and Fulton says this is an area where improvement never ends.
"There is no finish line for research and development; it never stops and if you stop you end up getting left behind."
The future for Compac looks fairly solid, with further projects emerging from current customers as well as offers from new customers world-wide.
One project, which Fulton hopes will bear fruit in the next year or so, is the creation of a sorter that can detect bruising in fruit at an early stage, to prevent bruised fruit being packaged and sold.