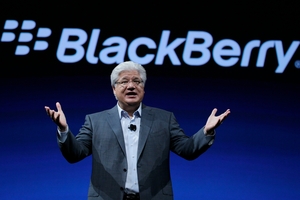 BlackBerry founders Mike Lazaridis and Douglas Fregin are weighing taking over the struggling smartphone company as it searches for a buyer.
Lazaridis said yesterday in a filing with the US Securities and Exchange Commission that he and Fregin are looking to potentially acquire the 92 per cent of the shares they don't currently own, either by themselves or with other interested parties. They have hired Goldman Sachs and Centerview Partners to help them explore options.
The filing said Lazaridis and Fregin own 8 per cent of BlackBerry.
Their announcement is the latest sign of investor interest in BlackBerry after the company launched a review to consider a possible sale or break-up of its operations. The Canadian company announced last month that Fairfax Financial Holdings, which owns close to 10 per cent of the company, signed a letter of intent that "contemplates" buying BlackBerry for US$9 a share, or US$4.7 billion ($5.65 billion).
Fairfax, BlackBerry's largest shareholder, is trying to attract other investors. Private equity firm Cerberus is also interested in looking at BlackBerry's books as a step toward a possible bid.
The stock is trading below Fairfax's tentative offer on fears that the deal won't go through or that the final price will be lower. Shares of the company rose US9c, or 1.1 per cent, to US$8.20 yesterday.
The BlackBerry, pioneered in 1999, was once the dominant smartphone for on-the-go business people and other consumers. President Barack Obama couldn't bear to part with his BlackBerry. Oprah Winfrey declared it one of her "favorite things".
But then came a new generation of smartphones, starting with Apple's iPhone in 2007.
The BlackBerry suddenly looked ancient. The company's sales slumped, it lost billions in market value and it recently announced layoffs of 4500 workers, or 40 per cent of its global workforce.
As the Ontario company's troubles grew, Lazaridis stepped down as co-chief executive in January 2012. He remained on the board until this year. Lazaridis recruited Fairfax head Prem Watsa to join the company's board when he stepped aside as chief executive.
It remains to be seen whether Lazaridis joins Watsa's bid or bids on his own, said BGC analyst Colin Gillis. The stock didn't rise much because it was widely expected that Lazaridis might make a bid, he added.
Gillis said that it must hurt Lazaridis to see reports that BlackBerry might be broken up and sold in pieces.
"It's his baby. If anyone is going to see value in the company it's him," Gillis said.
"He founded this company. I'm sure it's not pleasant to watch the spot it is in and he sees value in it. It must hurt to see reports that this thing is going to get ripped up and fed to the vultures."
Lazaridis would not comment beyond the filing.
AP