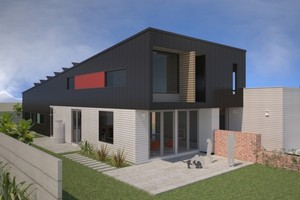 Healthy homes: Lurking in the fine print of the Draft Auckland Unitary Plan is a proposal for new dwellings to be built to a Homestar 6 standard, if five or more consents are sought at once. Homes built to current building code minimum would get a Homestar rating of around four, so it's a jump. What will it achieve? "You'd notice. There's a hell of a difference between 4 and 6," says Homestar director Leigh Featherstone.
The Homestar rating system was developed in 2009 by the New Zealand Green Building Council and building industry research body BRANZ. It's New Zealand's only independent, verified residential sustainability rating tool, establishing a common standard and language to describe the environmental performance of New Zealand homes. Almost half the credits in Homestar relate to energy, health and comfort, which is mostly about the thermal performance of the house.
To reach a rating of Homestar 6 out of 10 the house must include total insulation, double-glazed windows or heavy-duty thermal curtains, energy efficient lighting and appliances, and water efficient systems such as low-flow showerheads and dual flush toilets.
"That means it should be a warm, well ventilated house that doesn't have mould, doesn't have condensation, and will keep you healthier," Featherstone says.
An independent study has estimated reaching Homestar 6 adds just over two per cent to the build for a standard three-bedroom home, but that can be knocked back by making it smaller - no bad thing when you realise the average New Zealand new home size is now the second largest in the world behind Australia.
The payback time is 5.5 years from lower energy and water costs and lower maintenance. "Six is easily achievable. There are builders producing 7s and 8s, but then you have to get a bit exotic about the water, such as reticulating greywater for flushing the toilet," Featherstone says.
It's not just for new builds. The majority of visitors to the Homestar website are people looking for renovation advice. It recently launched a new subscription service - MyHomestar - to help people better understand how their new or existing home is likely to perform.
An online self-assessment tool allows them to assess their energy, health and comfort, water, and waste situation, rates the house from 0 to 10, and gives recommendations on home improvement and maintenance. The subscription can give them access to special discounts from Homestar product partners such as Resene, Pink Batts, Cavalier Bremworth, GIB, Parex, Bosch, Showerdome, Earthwool and Placemakers.
"Homestar doesn't recommend products. We give advice, and put products in a format that lets people make their own decisions," Featherstone says. It is pitched as a source of independent advice for those planning a renovation or purchasing a new house.
While other countries have introduced similar sustainability measurement systems, such as the UK Code for Sustainable Homes, Australia's NABERS-Homes and Germany's PassivHaus, Homestar is unique as it is applicable to both existing and new home builds including stand-alone, terrace and apartments.
As well as the consumer website (homestar.org.nz), there is now a national network of Homestar professionals to give advice, including Homestar Assessors that can certify homes. Featherstone says Homestar is starting to be adopted by group builders such as Stonewood and Mike Greer Homes in Christchurch. The organisation is also working with Otago University about a proposed warrant of fitness for rental properties.
He says with more than a million underperforming houses in New Zealand, there is huge scope for improvement.The format of the Homestar tool allows homeowners to identify and prioritise what they need to do. "No one fixes everything at once."
myhomestar
To understand Homestar, the best way is to do the myHomestar test at homestar.org.nz
It should take at least 20 minutes, depending on how often you get up to inspect some feature of your home. The test stopped being free on August 1, and now comes as part of a $15 annual subscription. The Homestar subscription can be considered an investment, as it includes access to updates, extra advice and product discounts if you decide to act on the recommendations.
The first box asks me to "name this property". Subscribers can test multiple properties. What shall I call this one? Dunfreezing? Grey Lynn Castle? The next page captures basic information about the property, starting with house type from a menu of useful photos. I click on villa, then clamber outside with a tape to measure the size.
It comes to about 110 square metres, which is normal for a three-bedroom house of the period. A modern three or four bedroom home is often greater than 150m2, which is something to consider in the debate over affordability.
Now we get to the energy category, which is worth a quarter of the points. I expect to get hammered. As of this winter the main space heater is a flued gas heater, which is good - they don't like unflued gas and open fires in this test. Hot water comes from a continuous flow gas heater. Are hot water pipes insulated? I'm not sure, so look under the house. There's a pipe with a loose and dirty sort of fibrous strip wound around it. I'm not sure if it's doing its job. I click "don't know".
Light bulbs are a mix of old and new style. Homestar encourages low energy fluorescent or LED lighting for at least 75 per cent of the house. The fridge is more than 10 years old - energy efficiency in appliances has increased markedly in the past decade. In total I get just 14 per cent of the possible points.
The next section goes to health and comfort - windows, ceilings, walls, floors and dampness. Does the house generate any electricity from renewable sources such as solar photovoltaics, wind or hydro? No such luck, and no incentives expected any time soon from Energy Minister Simon Bridges. After all, generating your own could threaten the share price of mixed ownership model power companies.
The questions about windows just remind me how cold it can be standing in the sun porch at night, but thick drapes would hide the view, which is the point of having so much glass. I'm not climbing into the ceiling to check the Batts, but I'm guessing that with 20 years of settling they would be down to less than 100mm, with no coverage of the framing or joists. The done thing now is to have a continuous thick cover of insulation up top.
The exterior walls are timber framed and weatherboard without insulation and the wood flooring is uninsulated. The water section includes questions on rain barrels, greywater systems, double flush toilets, and water efficient shower heads. I scored zero.
I got 100 per cent for waste management though - big ticks for the Hungry Bin worm farm and the compost heap.
Does the house have a home operation and maintenance manual? It's a home, not a rocketship, but if I want to create a home user guide covering the operation of the house and maintenance schedules, there is a template on the site.
How much of the landscaped area directly around the house is planted with native plants? Magnolias don't count as natives. What's the fuss about natives anyway? Why should the house be more green for having some shrub wrenched away from its sub-alpine habitat?
Which of the following is 10 minutes walk from house? I tick bank, bus stop, coffee bars, library, supermarket, everything but the marae which is 20 minutes away. That's what living in Grey Lynn is about.
Now the moment of reckoning. I push the button for the report: "This house has achieved a rating of 2 stars under the Homestar Residential Rating Scheme.
"It is possible for this home to achieve a higher star rating, except that it is currently being held back by a mandatory minimum performance level in the core issue of overall warmth and comfort (specifically the ability for the house to achieve healthy winter-time temperatures without using excessive energy). To gain a higher star rating address this core issue first, and then reassess the house once the changes have been made."
At 2 stars my Grey Lynn villa comes in at half the average but only slightly below the building code.
MyHomestar members are eligible for five per cent off Earthwool insulation this month for online purchases, and Parex has $500 cash back on an EcoSpring hot water heat pump.
Like what you see? For weekly Element news sign up to our newsletter.
We're also on facebook and Twitter.