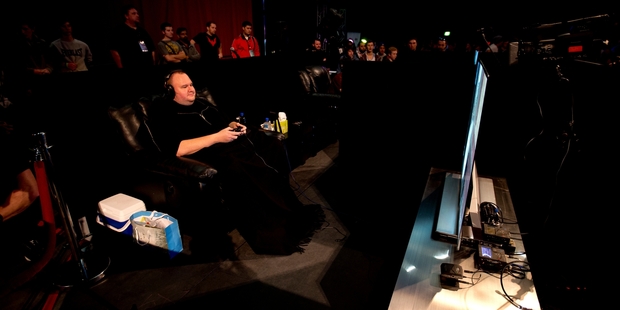 One hundred gamers from around New Zealand lined up yesterday for a chance to beat one of the world's best - Kim Dotcom. And only one could take the millionaire down.
Mr Dotcom brought couches from home for the Call of Duty marathon, as well as a chilly bin of snacks and a lap blanket to keep him warm in Vector's frosty air conditioning.
The gamers at the Digital Nationz had 10 minutes to try to beat Mr Dotcom and win prizes including an Xbox One and $1000 in cash from Mr Dotcom, who ranks No 2 in the world for Call of Duty, a first-person shoot 'em up game. Mr Dotcom slid from No 1 after his arrest early last year.
Only one person was able to beat him - Caleb Makiri, from Whangarei, who was the last player.
Shardous Wymom, 22, lasted the full 10 minutes. He came all the way from Timaru for his shot but didn't practise before going head-to-head with Mr Dotcom.
"It was pretty cool - I'd give it a 10 out of 10 for sure."
The expo on Saturday and yesterday showed off the latest technology and was the first of its kind in NZ.
Nearly 10,000 people poured through the doors to check out the new PlayStation 4 from Sony, and Xbox One from Microsoft, a History of Video Gaming Museum with computers and consoles from the Apple II to the Sega MegaDrive and the Oculus Rift virtual reality headset.
The Xbox exhibition featured a movie-sized TV screen for people to play on while sitting on a couch that was dwarfed by the television's size.
Dan Auxtero, 13, there with his friend Nawaf Aljohani, also 13, said it was "pretty cool" and really exciting trying out such a large screen. He was too young for the R16 Call of Duty.
Digital Nationz
* Attended by about 4000 on Saturday and 3000 yesterday at Vector Arena, Auckland.
* Exhibits included Sony Playstation 4, Xbox One, the History of Video Games Museum, a Digital Artz
* Gallery, 3D printers, robots and the Oculus Rift Virtual Reality Headset.
* Modelled on American events such as the E3 - the world's biggest gaming expo, held annually in Los Angeles, California.