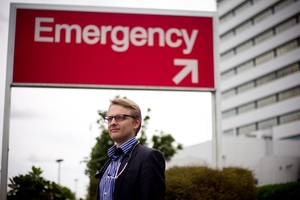 A Kiwi doctor reckons the smartphone-based technology he's developed has the potential to revolutionise the way medical staff communicate in hospitals.
Aidan Gill came up with the idea for his Smartpage app while working on hospital wards from Auckland to Invercargill after graduating 3 years ago.
Through Smartpage, nurses use a computer interface on the hospital ward to send detailed patient information - everything from name, age and vital signs to specific medical issues - to a doctor's smartphone.
Gill says the technology provides big benefits over the antiquated paging systems that remain the most common way for nurses to get in touch with doctors, resulting in all kinds of communication problems.
At the moment, nurses could either call a doctor's pager and wait to be called back or send a text message that was limited to 100 characters and couldn't contain detailed information, he said.
"The trouble with text paging is that it can take two-to-three minutes to be delivered and then [the nurse] has no idea whether the doctor has received the message or not because it's one way - you can't reply to it," Gill said. "It wastes a lot of time and causes all these issues where nurses find it difficult to get in touch with doctors, and patients get seen much later than they should have been."
Gill, who briefly studied software engineering before opting to go to medical school instead, has taken a break from practising as a doctor and has spent the past 2 years developing Smartpage fulltime.
He said Smartpage even calculated a patient's early warning score, which used vital signs to indicate how unwell a person was.
Documents, such as an electrocardiogram, and photographs can also be sent through the system and nurses are immediately notified whether the message has been read or not.
Gill said Smartpage also provided analytical data that could, for example, allow hospitals to track doctors' workloads.
The 26-year-old, who started medical school when he was 16, said he had self-funded the development of Smartpage and wasn't currently looking for any investment.
Gill has established a company, Oncall Health, to commercialise the technology.
Smartpage has been trialled at North Shore and Waitakere hospitals for a month and Gill said the technology had been well received by medical staff and the Waitemata District Health Board was looking to extend the trial at both hospitals.
A survey following the trial had indicated that the technology saved users, on average, 10 to 15 minutes every hour, he said.
In an article published in the Herald on Sunday this year, Rosemary Wyber, a junior doctor at Wellington Hospital, shed light on some of the common frustrations facing medical staff.
She said a "cacophony of paging" took place each morning as nurses on the morning shift tried to contact doctors to discuss overnight issues with patients.
By the time a doctor responded, the nurse had often been called away from the phone.
"Our biggest hospitals are mired in infinitely complex phone tag, creating chronic, low-grade infuriation for clinical staff," Wyber said.
Gill said there was scope to take Smartpage overseas, including to Australia and Europe, after it had been proven in New Zealand hospitals.