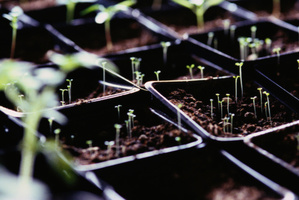 LETTUCE FOR LIFE: Space isn't known for being very friendly to life — astronauts have to carry with them everything they need, including food. That means fresh food is in very short supply. In December though NASA plans to send planters for growing Romaine lettuce to the International Space Station. Bright pink LED lights will help the lettuce grow enough to be ready to eat in 28 days. The Vegetable Production System programme is not only a first step to feeding astronauts, but also aims to help keep them emotionally healthy as they care for the plants. Everyone needs their greens.
LISTEN UP: Extremely sensitive radar technology can pick up faint signals — such as a heartbeat in a pile of rubble from a collapsed building. A new device from the US can pick up a heartbeat buried beneath 10 metres of crushed materials, hidden behind 7 metres of solid concrete, or from a distance of around 30 metres in open spaces.
The technology uses advanced data processing systems to distinguish the heartbeat from the mess of radar signals. Once rescuers know someone is alive they can use more traditional methods to go in and get them. It's amazing to think they can pick up a heartbeat from that distance.
TRIPPY SOCKS: Perhaps you wear socks specially designed for running or walking. The Japanese company Terumo has designed socks to help keep older folks from stumbling over uneven surfaces such as the edges of rugs. Their Upwalk anti-stumble socks are sewn in such a way that the toes are lifted a little, helping the wearer to avoid tripping over things. Tightly woven panels on the upper surface create tension across the top of the wearer's feet, pulling the toes upward and shifting the balance point back towards the heels. Any why not?
APPS AWAY: The Caravisio caravan from Germany has taken its inspiration from luxury yachts, with panoramic windows, teak wood flooring, a deck and a folding roof. Meanwhile computer-controlled air suspension automatically levels the caravan with an app. An app also controls the transparency of the rear door, allowing it to be used as a screen for a projector. Go high-tech as you get back to nature.
YOU AND YOUR CARGO: It's just you, 45 Kg of parcels and your trusty bike. Sigh. At least the 2x4 electric assist cargo bike from NTS Works will make your ride a bit easier. The bike has a lightweight aluminium frame, and cargo rides above the front wheel. The front wheel is powered by a high-torque electric hub motor powered by a Lithium-Ion battery, while pedalling drives the rear wheel. USB ports allow you to charge devices on the go. That's a sturdy, functional bike.
Miraz Jordan, knowit.co.nz