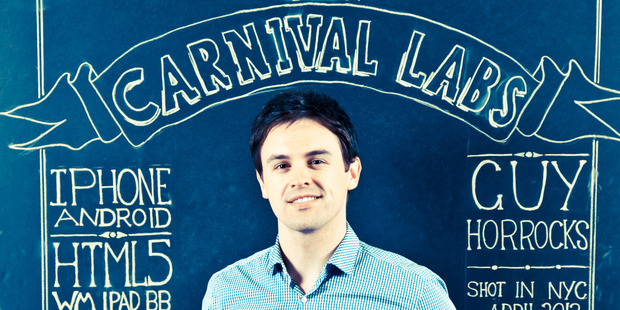 Kiwi tech company Carnival Labs is looking to ramp up its presence in the US after securing about US$2.4 million in funding from a "dream team" of investors.
Co-founder Guy Horrocks said the firm - which is a leading developer of mobile applications - would also be doubling its staff numbers by the end of the year.
Carnival Labs has just closed a funding round in which it gained the backing of four investment funds and another four individual angel investors, all US-based.
They include Lerer Ventures, investor Gary Vaynerchuk, Flybridge Capital Partners, Bowery Capital, Google Ventures, Jos White, Michael Lazerow and David Tisch of BoxGroup.
Vaynerchuk was an early investor in Kiwi social media marketing company Wildfire, which was later sold to Google last year for $US250 million.
Founded by Horrocks and Cody Bunea in 2008, Carnival Labs now has offices in Wellington, Auckland and New York.
Its big-name clients include Kraft Foods, Weta Workshop, HBO, Coca-Cola, Oreo and CNN.
Horrocks said the investment round had been a huge boost for the company.
"Bringing these investors on board, we've suddenly come instantly onto the radar for a lot of people here in the US," he said.
"Not many start-up companies roll into the US and get the dream team of investors."
Horrocks, who has been based full-time in New York since last November, said the company would be looking to ramp up its marketing efforts over the next year.
He said the company was currently going through a "massive change" in its strategy, moving from simply creating mobile apps to developing its own technology platform.
That platform would allow companies to track key metrics such as how many people were installing their app, where those people were from, and how long individuals kept the app for.
"Everyone seems to have their own app but they don't quite know what's happening inside them," Horrocks said.
The investment meant Carnival Labs would be increasing its development work and hiring more staff, Horrocks said.
"I can imagine us getting from about eight at the start of the year to about 20 people by Christmas," Horrocks said.
"It's going pretty well so we've just got to keep our foot on the accelerator."
Horrocks was recently named as a finalist for Ernst and Young's New Zealand Entrepreneur of the Year Awards.