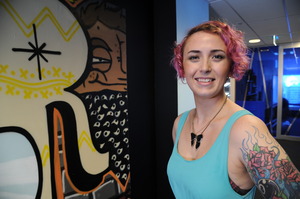 A young innovator hopes to take a bite from Apple's worldwide market with a locally-developed game.
Rebeccah Cox, 26, spent six months developing Koi Pond Code Breaker, and has gained approval from Apple to market the game on the iTunes App Store.
"I thought the process would be harder than it was, because you hear a few horror stories about submitting your first apps," she said this week.
The logic game is available for download internationally. Cox, like other game developers, takes a cut of profits from each download.
The game requires players to match up koi fish in a series of puzzles and aids them with occasional cryptic hints.
"It's the first step to the greater plan. We have quite a few in the works," Cox said this week.
She hopes to complete another three or four games this year, focusing on children's games and interactive stories.
Cox graduated from Auckland's Media Design School late last year and now runs her own business, Bexcellent Games, from her family home in Rotorua.