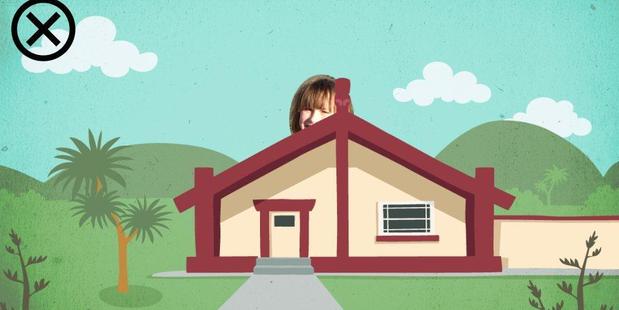 A Wellington father has designed a smartphone app to encourage young fathers to interact with their children.
The 'Peekaboo' app developed by Josh Briggs works the mobile device's photo galleries, hiding images of family and friends in New Zealand landscapes which parents and children work together to find.
Mr Briggs said the concept came from playing with his young daughter Ellie and watching his interact with his wife.
He said he thought "what would it be like if there was an app built for children to initiate play alongside their parents and caregivers?"
As well as promoting babies' brain development by helping them recognise familiar faces, the app also helps build the understanding of 'object permanence' - the idea that things still exist even when they can't be seen.
"One of the great key features about it as well is to make it more accessible, there's only limited written word in there, but on the app you can change the written word between English and Maori so people that are brushing up on their te reo Maori or they're wanting their children to engage in learning the language, it's accessible for them as well."
Mr Briggs said most resources designed for children to interact with their parents weren't aimed at fathers.
"Part of my passion around developing this was having an application that is designed for young dads from the get-go.
"There were young dads involved all the way through the development. Hopefully if it will appeal to young dads, it will appeal to other parents as well."
Peekaboo was designed for babies aged nine months and older, and includes suggestions of other simple games to play away from the phone or tablet.
Kiwi Parents director Rochelle Gribble said she had been seeing more and more apps designed for young children to play alongside their parents.
"It's clear to me that the child market is a big market on mobile apps [for children], probably once a week I get an email from somebody asking me to review their app.
"I don't know whether anybody thinks that it's healthy, but I think that probably lots of people are making arguments that there are beneficial ways of using mobile devices with children."
Although it was preferable for parents to actively interact with their children, apps developed for parents to bond with their children as they wound down at the end of the day could also be positive, Ms Gribble said.
The Peekaboo app was developed with the help of Plunket, Vodafone and the Ministry of Social Development and will be free for download from both the Apple and Android stores from September 1.
Social Development Minister Paula Bennett said the collaboration was a fantastic example of government, NGOs and the corporate sector working together to create a product which benefited New Zealand families.
- APNZ